Ever wondered if professional bloggers have some sort of checklist that they use before publishing their blog posts? Yup most of them do. In this article, I'll share my 14-point blog post checklist that you should use before you hit publish.
If you follow this blogging checklist, you will minimize errors and ensure maximum benefits.
At the end of this article, I've also shared a tool that you can use to prevent accidental publishing as well as a PDF download of this checklist that you can give to your writers.
[yellowbox]Exclusive Bonus: Download The Blog Post Checklist to use before you hit publish.[/yellowbox]
Having that said here's my blog post checklist that I use before publishing a post.
1. Do You Have a Catchy Title?
If you don't have a catchy title, then chances are that your blog post will not be read or shared by many.
Just like you would ignore a book with a bad cover, people ignore blog posts with bad titles. Yup we're shallow.
Before you publish your blog post, make sure that your headline is catchy.
The best way to find out is to run your headline through EMV headline analyzer to find the emotional marketing value of your headline.
You can also use Headline Analyzer by CoSchedule which also gives tips on how to improve your headline.
2. Make Sure Your SEO Title is Under 60 Characters
Usually your blog post title and SEO title is the same, so you need to make sure that it is less than 60 characters long.
Why? If it's not, then Google and other search engines will cut it off like this:

That's why I always try to make my SEO titles the right length. In some cases, my SEO title and blog post title may be a little different to meet the character limit (for example this post)
If you're not using Yoast SEO plugin for WordPress, then I highly recommend that you do so because it has a preview area that shows you how your title will be displayed in Google.
3. Do you have a Meta Description?
Meta description is the short description that search engines and social networks display below your post title.
If you don't write a custom meta description, then search engines simply grab the first few sentences and cut it off which doesn't look very good.
That's why you should write a custom meta description that's under 160 characters long.
Again, use Yoast SEO plugin if you aren't doing so already.
4. Is your Focus Keyword in Title, Description, and Post Content?
Whenever you are writing an article, it should have a central theme also known as focus keyword.
You need to make sure that your title, meta description, and your post content includes the focus keyword that you are trying to rank for.
For example: the focus keyword of this article would be blog post checklist.
You could manually read your article, use Ctrl + F to find how many times you mentioned the focus keyword, or you could use Yoast SEO plugin which automatically tell you all this.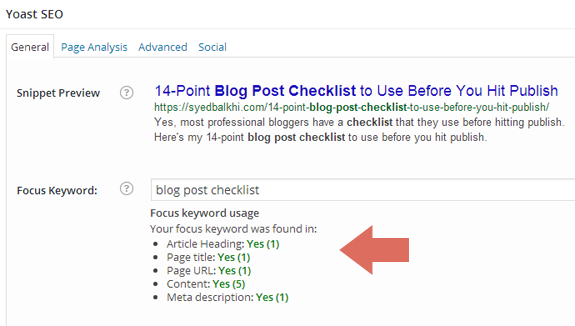 If you aren't getting the theme already, I love Yoast SEO plugin and even use their premium version.
5. Do you have related keyword variations in your article?
Often beginners make the mistake of keyword stuffing their article. Don't do that!
Instead what you should do is write in natural language and make sure that you add related keyword variations in your article.
To do this, you need to Google your main keyword, scroll down and look at searches related to … section.

This is one of the ninja blog tactics in most SEO's on-page blog post checklist.
6. Are you interlinking your blog posts?
Interlinking is great for both SEO because it helps with increasing pageviews and reducing bounce rate.
In every post you write, you should try to interlink at least 1 – 2 of your previous articles.
This is hard at first, but becomes easier as you write more content on your site.
7. Make sure all external links open in a new window
Having external links that helps your user learn more about the topic is great and helpful.
However if that comes at an expense of user leaving your site by clicking on that link, now that sucks.
To prevent that from happening, you should always open all external links in a new window.
This will reduce bounce rate from your own site when linking to external resources.
8. Add proper image credits and sources
When I first started blogging, I didn't care much for image credits and sources. I would basically google the image, find the first one I see, and add it in my article.
DON'T DO THAT! —- You'll regret it later.
You should make sure that you have added proper credits and sources for your images.
I personally use Shutterstock for a lot of my images now. I bought their subscription and honestly one of the best investments I made for my blog.
Here are few other royalty free image resources that are completely free.
9. Do your images have alt tags?
Make sure that all the images that you add have proper alt tags.
This helps with accessibility and image SEO. I won't write too much about this.
Read more: Image Alt Text vs Image Title Tag
10. Check post thumbnail for proper social media dimensions
First, make sure that your post has a thumbnail.
Second, make sure that it is the right dimension for Facebook, Google+, Twitter Cards, etc.
Since each network has different image sizes, I find that if you're over 500px by 300px – you're good to go.
If your theme has a smaller thumbnail size, then you can upload a separate thumbnail image for Facebook, Twitter, etc by using Yoast SEO plugin's social setting.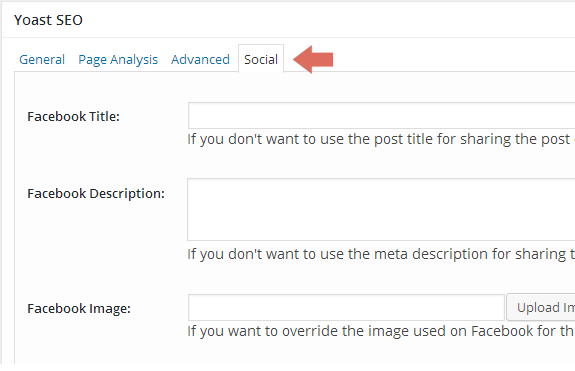 11. Do you have proper sections (h2, h3, lists, formatting?)
You need to make sure that your blog post is easy to read.
Headings (h2, h3 tags), lists, bold, italicize, short paragraphs, and other formatting can help with the overall reading experience.
Make sure that your article is easy to read.
12. Check for call-to-actions
Does your post have a call-to-action?
Usually at the end of the blog post, you should ask your readers to comment on your blog post, purchase your product, follow you on social media, etc.
My favorite call-to-action these days is a content upgrade which you can see in this post as well. Here's some numbers on how this helps me increase conversions by 845%.
Whatever your call-to-action is, make sure it is there!
13. Add categories and tags
It sucks when you publish a post and completely forget to set a category. In which case it shows as uncategorized.
That's why it's always recommended that you add your post to a category and add relevant tags.
Read more: Categories vs Tags – Best practices
14. Preview and Test
Last thing before you publish, you should preview the post to see how it looks on your website.
Click through the links to see they all work and make sure all images and formatting are good.
Once you do that, go ahead and publish.
What's Next?
I know you're probably wondering if there's an easier way to put this system in place without sending people to Syed's blog post.
Yes, there is (actually two easy ways).
If you're using WordPress, then you can use this free plugin called Pre-Publish Post Checklist.
It allows you to create a checklist in your WordPress posts area and would not allow you to publish a post unless all items are checked off.
Alternatively, some folks may prefer a PDF download of the checklist, so I created one for you: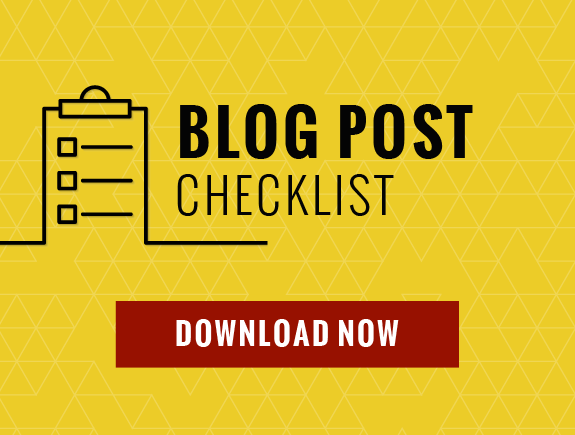 I hope this article helped you create a blog post checklist that you can use when you publish your next post. This list will help you avoid a lot of those silly publishing accidents.
If you liked this article, then please consider sharing it with your friends and leaving a comment below.
Also make sure you're following me on Twitter because I share tons of awesome resources there.