Struggling to post regularly on your blog? Have you ever sat down to write, only to stare at a blank screen for ages? One of the best ways to solve that is by creating a content calendar for your blog.
Maybe you've never come across this idea before – or maybe you've tried it in the past and didn't get very far.
In this article, I will walk you step by step on how to build a content calendar that works for you.
I will also share the best content calendar software that you can use along with giving you the exact step by step content calendar template and the editorial workflow that I use.
Sounds like a good deal? Let's get started.
Step 1. List Post Ideas
Whenever I tell someone about creating a content calendar, they start drawing up a calendar for the month. That's a rookie mistake because you're skipping an essential step.
The first step is create a list of blog post ideas. Otherwise, you'll find yourself staring at 31 blank days, with no idea on how you're going to fill them.
You should brainstorm at least 20 – 30 ideas for your blog.
If you're not sure where to start, then OptinMonster has a great list of 50 blog post ideas to help you out.
You should also check out these 73 types of blog posts that are proven to work for even more ideas.
Once you have at least 20 ideas in your list, you can move on to Step #2.
Don't forget to set aside time on a regular basis to come up with more ideas. The more you practice, the easier it'll get, and you'll never have to face a blank screen again.
Step 2. Decide on Your Posting Schedule
Once you have the ideas, you need to figure out how frequently can you publish new content on your blog.
You want to be realistic with this number because consistency is very important.
If you don't have the resources to publish daily, then start with once a week and increase your frequency.
For our Envira Gallery blog, we started with 1 article a week, then slowly ramped it up to 2 articles a week, and now we are doing 5 articles a week.
I know a lot of you ask me about the ideal blog post frequency, there really is none.
I would say the minimum you should publish is at least once every two weeks. If you can do once a week, then that is great. I'm publishing once a week my personal blog (this site).
On the OptinMonster blog, we're publishing twice a week because that's all what we can do consistently.
On WPBeginner, we publish once every day (Monday to Friday). On List25, we publish twice a day (7 days a week).
The goal of sharing this is for you see that even across my own web properties, there's a huge difference in publishing frequency.
So pick a schedule that works for you and move on to step #3.
Step 3. Slot Your Ideas into Your Calendar
Hopefully, once you've got your ideas and your schedule, drawing up your content calendar will be easy!
Depending on your workflow, there are several content marketing software and tools you can choose to create your calendar:
Edit Flow – It's a WordPress plugin that I use which is 100% free. It hasn't been updated in a while but I haven't found a more comprehensive solution that this.
CoSchedule – A great content calendar app that works on all platforms.
You can use Google Calendar (or whatever calendar system you normally use).
Create a spreadsheet, either stored on your computer or in the cloud (e.g. on Dropbox).
Use pen and paper – some bloggers find this helpful for focus.
As you add ideas, think about the balance between them. Some tips that may help:
Ensuring you have a mix of posts in different categories on your blog.
Mixing up shorter and longer posts – to give yourself a break, as well as the reader!
Varying the types of posts you write, by avoiding having several "how to" or list posts on a row.
Using less research-intense posts for weeks when you'll have less time available – or planning to do research ahead of time.
If you've followed the above three steps, you will find that your content creation is going much more smoothly. You don't have to stop here, though!
Overtime, I have customized the process above for my blogs. You can download my exact step by step content calendar template and editorial workflow which also includes a bonus step.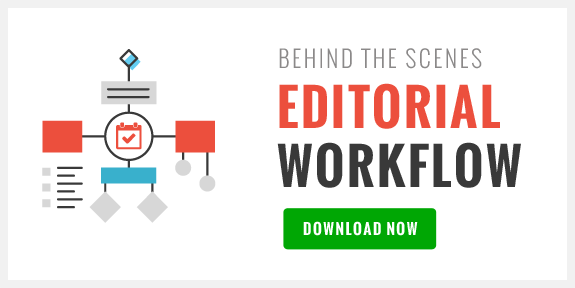 Do you have a content calendar for your blog? If so, can you share your most helpful tips with me? If not, then what's holding you back? Drop a comment below and let me know.
I hope this article helped you create a content calendar for your blog. You may also want to checkout my 14 point blog post checklist to use before you hit publish.
If you liked this article, then please consider sharing it with your friends. Also don't forget to follow me on Twitter and Facebook.