At our annual company retreat back in August, we created a concrete plan on how we were going to double the sales of one of my plugins, Envira Gallery. It took us 1 and a half month of hard work to accomplish our goal, and we are on our way to quadruple the revenues by the end of next year. In this article, I will share how we increased Envira Gallery sales as well as share what we're working on next.
Background of Envira Gallery
Envira Gallery is a premium WordPress gallery plugin in which I became a partner through an acquisition last year.
At the time, Envira was still in it's infancy and I didn't pay very much attention to it.
While we had tons of development being done, I spent very little resources on marketing because all our marketing efforts were focused on OptinMonster.
In a year's time, Envira matured into being a really robust photo gallery plugin for WordPress.
That's why at our annual company retreat in August, we created a plan to revamp Envira Gallery site design and marketing strategy.
Identifying the Problems
Our biggest problem was neglect. Not on the product side, but on the marketing side.
The original Envira Gallery design and copy was created by my technical co-founder Thomas Griffin.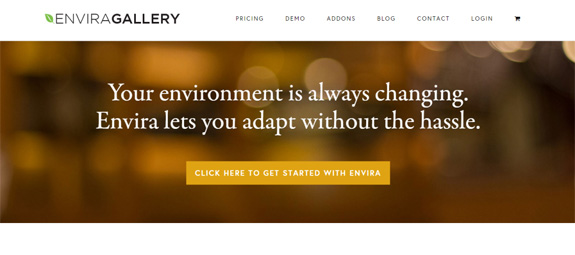 Like most plugin authors, we focused on improving the product and adding new features, but didn't update the marketing site at all.
Sounds stupid, I know.
The first order of business was to redesign the marketing site and update the marketing copy.
Second, we had no marketing strategy in place. Our social media accounts were dormant. We were doing zero content marketing. We weren't doing any outreach. This had to be fixed.
Now you're probably thinking, were you making any money at all? The answer is YES.
Envira was a solid six figure product – courtesy of our free lite plugin and the word of mouth advertising from our customers / friends in the WordPress ecosystem.
New Design
The first thing we did was redesign the marketing site. It was a major overhaul.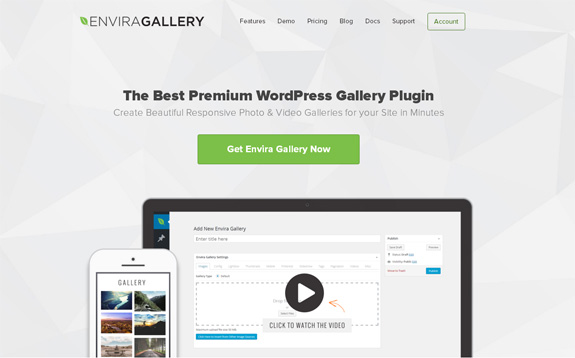 Few key elements that we changed:
Write a clear copy and avoid jargon – I believe in the KISS concept (Keep it Simple, Stupid). That's why as I wrote the copy of Envira Gallery, I made sure that we told the users exactly what Envira does without the jargon.
New Homepage Video that's NOT a Tutorial – Our previous homepage video was a tutorial on how to use Envira Gallery. In the new video, we actually created a marketing video that highlighted all the features Envira has to offer.
Create a Features Page – Nobody cares about Addon names. People want to see what features you offer, and how it can help them. That's exactly what our features page does. It shows you everything Envira can do on a single page.
Individual Feature Pages – Previously when a user wanted to learn more about a specific feature, they would be taken to a documentation page. In the new design, we created individual marketing pages for each feature with custom marketing videos and clear call-to-action.
Create a Demo Page – This was one of the most requested page on our pre-sale inquiries, so we created a Demo page that highlights some of what you can do with Envira Gallery.
Improved Docs – We borrowed all the docs and support infrastructure from OptinMonster because it works really well. I have written about it here.
Improved Pricing Table – Our original pricing table was a mess because it was doing a side-by-side comparison of each plan with a lot of checks and X icons. The new grid shows who should use each plan and build up the features incrementally. This is a method that works well for us at OptinMonster and is also used by all the major SaaS companies.
Since our new design properly highlighted all the features Envira Gallery now offered (over 20 new addons), our onsite conversions doubled without any traffic increase.
Bottomline, don't let your development efforts go to waste and actually focus on marketing everything that you build. We'll be doing the same for Soliloquy in Q1 of 2016 but more on that later.
Content Strategy

One of the things in our growth plan for Envira Gallery is to focus on content marketing. Why?
Because it helps us keep our current customers engaged as well as attract new customers through outreach, social media, PPC, and SEO.
We have started creating one new blog post a week on the Envira Gallery blog, so we can regularly engage with our customers and have more value to offer in our email marketing campaigns except for just asking them to upgrade on every new feature announcement.
We hired a full-time content person for Envira Gallery to manage the blog and handle our Twitter and Facebook accounts.
Since we just started this, I don't have any data on how well it will convert. But considering how well content marketing works for our other products, I don't see why it wouldn't help us with Envira Gallery's growth.
What's Next?
Photography is a huge niche, and there are just a handful of WordPress companies trying to target this market.
We're going all-in with Envira, and you can expect to see some really cool stuff come out in Envira Gallery both on the development side as well as on the content side.
We have hired two additional full-time team members to Envira, and I'll be focusing heavily on the product in 2016 to ensure that we accomplish our goals.
In the past months, we have added a much needed Image Proofing functionality and a WooCommerce integration which are huge for photographers. Aside from that, we have also added Dropbox Importing as well as Zip File Importing allowing photographers multiple ways to create galleries.
Some of the new features that are in Beta right now include Envira Lightroom Addon which allows you to build galleries straight from Adobe Lightroom, Envira Breadcrumbs for better gallery navigation, Envira Downloads which will allow you to add download ability on each photo, and a few more that I should probably save for our announcement post

I believe that combined with our awesome team, amazing customers, and increased marketing efforts, there's no reason why we can't quadruple our business next year.