Despite the many advantages of social media, it can be very time consuming. A lot of you asked me about how I remain so productive while regularly sharing great content and engaging with people in my network. The answer is a combination of social automation and personal interaction.
I've built my entire business with the power of social media. When done right, you can establish yourself as a thought leader like I did with WPBeginner. You can build great relationships like I have done with my personal twitter profile (@syedbalkhi). Last but not least, you can create a loyal following like I have done with List25 (over 432,000 subscribers).
Managing my growing business while finding the time to be active on social media is a huge challenge. This is why I've put in place a system that works for me, and I'm sure that it will work for you.
My formula looks like this:
Curation + Automation + Personal Interaction = Success
Curation
Unlike what some people think, social media isn't about posting random articles and hoping people will interact with you.
So what do I mean by curate? Curating is the art of sorting through content and sharing the most interesting and useful items on your social networks.
The key is finding content that others can learn from. Curating content is valuable because it helps me deepen relationships and develop thought leadership in my areas of interest and expertise.
How to find Quality Content?
Now that's a million dollar question right. Well, it's not really that hard. Here's how I find my content:
Subscribe to Interesting Feeds – The easiest way to find the best content is by subscribing to plenty of interesting feeds. I subscribe to feeds like HackerNews, Inbound.org, Michael Hyatt, and many many more. To make things easy, I use Feedly.
Share from People You Follow – I follow some really amazing people who share tons of awesome content all day long (such as Ann Tran and Reg Saddler). You can see my lists here: @syedbalkhi and @wpbeginner. The best part about re-sharing the stuff from your friends is that they notice you. I always try to mention the original source by using RT @username or via @username to further the conversation.
I do a lot of reading in the morning and usually find multiple interesting worth sharing with my followers.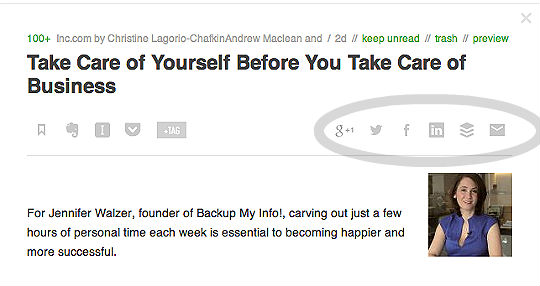 Now imagine if I shared all of those articles at once (that'd be kinda silly).
Personalized Automation
If you follow me on twitter, then you can see that my tweets go out through out the day. This doesn't mean that I'm on twitter all the time.
I use a very neat tool called Buffer. It allows me to schedule my tweets and spread them out through out the day, so I don't bombard my followers with too much information.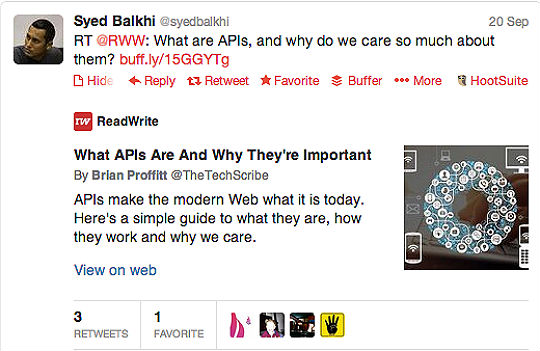 Now, I run quite a few websites including SteadyStrength and the ones mentioned above.
I use a tool called IFTTT to automatically push new posts to my buffer, so they can be shared accordingly.
Even when I'm traveling, I'm still able to keep sharing interesting content. Both Feedly and Buffer offer free mobile apps. I can read and share any article from my smartphone with ease when I'm on the go. When I find something worth sharing, I just click the Buffer icon in Feedly and it gets sent right to my Buffer queue.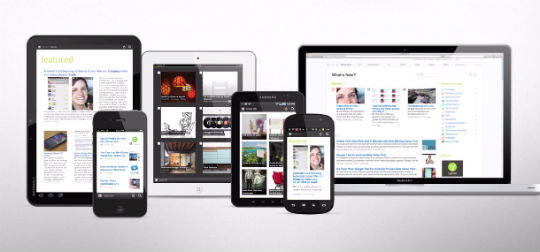 Personal Interaction
If you want to establish yourself as an authority, then you need to be proactive. You need to start conversations with people who are following you. Personal interaction is crucial.
When I share posts from folks I follow, they usually respond back to me by thanking me. Sometimes they even retweet my stuff. A lot of the times, folks respond to my tweets by adding their comments. I have had great conversations with friends over twitter.
I also look through my twitter feed and reply to tweets that I find are interesting.
You can't just automate social media. Engagement is crucial otherwise you might as well be a bot.
Final thoughts
Social media doesn't have to be a productivity killer. You just need to use the right tools to make the task of curating and sharing more efficient. Feedly and Buffer are just two tools I use streamline my social sharing work flow.
How do you manage your social media accounts? What tools do you use to discover great content from around the web? Share your experience by leaving a comment.