Last week during a conversation with few friends, we started talking about the NEW Facebook Notes feature that could be coming soon. We talked about how it could impact our blog traffic, what are some possible ways we could potentially exploit it, and the overall impact of it in the advertising space.
So what is this Facebook Notes thing?
From just looking at the preview, it looks a lot like the blogging network, Medium.
You have a clean layout with cover photos (aka featured images). TheNextWeb reports that it'll have features like user tagging, hashtags, and other standard features such as ability to add links, resize photos, etc.
You can also choose who sees your notes (public, friends, friends and extended network, etc).
So why is Facebook trying to get into the blogging space?
Same reason why they added native videos.
Facebook wants to expand it's advertising business!
According to SimilarWeb: from February to July of 2015, Facebook sent more than 49.1 million visitors every month to WordPress.com, over 7 million to Medium, and about 914,000 to Blogger. That's ONLY on Desktop.
It's also important to note that for WordPress and Medium, Facebook was the primary social driver of traffic.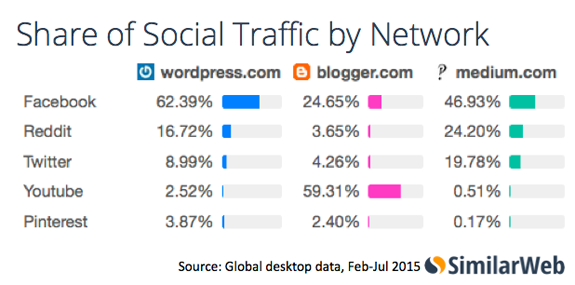 Wouldn't it be nice if Facebook could keep all that traffic in it's own network?
Yup, it's going to happen!
If Facebook videos are any indication of how aggressive Facebook is willing to be, then I believe anyone blogging on WordPress.com, Medium, and Blogger should expect a major drop in their Facebook traffic.
A report shared by SocialBakers showed that Facebook Native videos has a 3x higher organic reach than YouTube videos.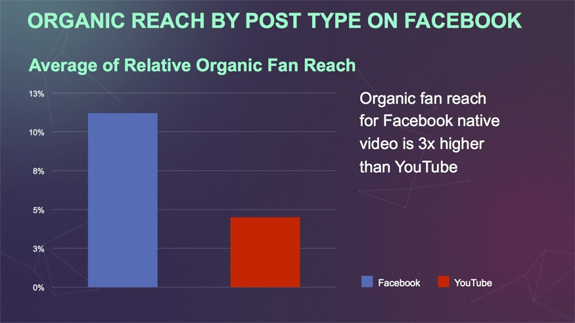 We experienced this first-hand for our List25 YouTube videos. Our YouTube videos reach dropped significantly when Facebook native videos came out.
Also because of the prominent placement in user's news feed due to favoring algorithm, native videos get more shares and engagement which in turns give it even more exposure.
I think the same will happen with Notes.
It's also possible that specific domains such as medium.com, blogger.com, and WordPress.com gets some sort of "penalty" where they have lower organic reach altogether. This kind of domain specific targeting is hard to do on a mass scale, but targeting specific platforms is definitely possible.
Of course it'd be hard to prove, but we will see when the numbers come out.
In my opinion: self-hosted WordPress sites wouldn't be affected as bad as blogs hosted on subdomains / platforms listed above.
Why Notes and Why Now?
In March, The New York Times reported that Facebook was looking to host content for news publishers. The deal said to involve large publications like NYTimes, Buzzfeed, National Geographic, etc.
The goal is to increase overall advertising revenue for the publishers through revenue share which of course grows Facebook's advertising business.
It also allows Facebook to keep the user on their platform. But there's more…
Just two days ago, Mari Smith shared that Facebook pages are getting a new layout.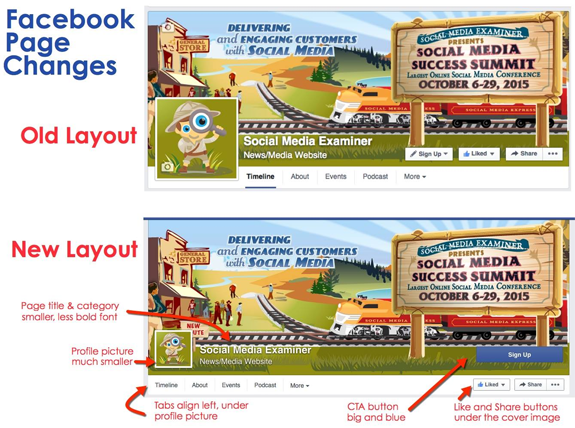 Notice that the Sign Up button is much more prominent now.
I think this is in preparation for the wider Notes launch.
Facebook is hoping for businesses to adapt Notes and add more value for their customers on Facebook.
This opens all sorts of doors for advertising and retargeting specially for business owners who aren't savvy enough to setup retargeting pixels.
How to Use / Abuse Facebook Notes to Your Advantage?
There are probably tons of tricks / exploits that will come up as Notes hit the market, but here are few that comes to mind right now.
Duplicate Content
This is probably going to be the #1 way to use the Notes' organic reach to your advantage because it'll be easy.
Instead of sharing your posts directly, you can simply share an excerpt with a Read More link.
Because Notes will get preferential treatment, you will likely reach more of your existing fans.
Think of it when photos/images got preferential treatment in Facebook, and everyone shared an image with a short summary and link to get more reach and clicks.
Curated / Stolen Content
This is where it gets tricky and it'll be interesting to see how Facebook control it.
Basically anyone can "syndicate" your great articles on their Facebook Notes. Since these aren't indexed in Google, it'll be hard for you to find / report it.
Why would someone want to do that?
Well first, their cost of producing content goes down to $0. They can do "Promoted Notes" which will most likely be cheaper than Promoted Website pages. After that you simply retarget that hyper-segmented audience with your offer.
It will allow for much better conversions and higher profits.
Cheaper Ads
Legitimate businesses will actually produce unique content to take advantage of the relatively cheaper "Promoted Notes".
Essentially the same concept as I discussed above for Curated / Stolen content except here it'd be legitimate. The retargeting benefits combined with cheaper cost is huge for businesses.
Again if native videos are any indication, then businesses will surely take advantage of it.
In January 2014, YouTube links were promoted 2x more than native FB videos. A year later, things shifted drastically as reported by SocialBakers.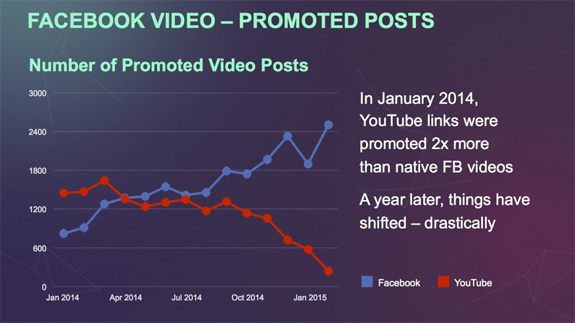 Final Thoughts
If you can't tell, I'm really excited to see how folks use Facebook Notes. There's so much opportunity here, and it'll be interesting how this plays out in relations to other blogging platforms.
What are your thoughts on Facebook Notes? Share it in the comments below.