Do you want to get more email subscribers? What if I tell you that there's a way that you can increase your conversions by 845% without any A/B testing. It's a simple psychology trick that only the smartest marketers know about, and it leverages what we call: The Content Upgrade.
When I first launched OptinMonster with our signature Exit-Intent® technology, it was the most ground-breaking thing for increasing conversion. Well that was 2 years ago.
You see an average exit-intent popup will convert anywhere from 0.36% – 4.2%. Now using this new strategy, I was able to increase my conversion rate to 27.04%.
Sounds crazy right. Let me show you the exact step-by-step process that I used, so you can easily replicate it for your website.
Before I start, let me first explain what the heck is a Content Upgrade.
The Content Upgrade
Content upgrades are lead magnets (or opt-in bribes) that are created specifically for a particular blog post or page.
It replaces your generic eBook or "get free updates" offer with something much more targeted that strongly appeals to the person on that page.
For example on this site, my generic lead magnet is my Toolkit eBook. While it's a useful resource, it's only semi-related to whatever topic that you're reading.
Now what if you can offer the reader something exactly related to what they just read?
[yellowbox]Exclusive Bonus: Download The Content Upgrade Checklist for a step-by-step guide on how to boost your conversions with content upgrades.[/yellowbox]
Yup that's an example of a content upgrade.
Now let me explain the psychology behind why this technique works significantly better than a generic exit-intent popup.
Psychology behind 2-Step Optins (aka MonsterLinks™)
Unlike an exit-intent popup that's triggered based on user's mouse behavior, the content upgrade popup has a 2-step opt-in process. When a user clicks on the link or an image, a popup opens up asking them to subscribe.
This concept is based on the psychology principle known as the Zeigarnik Effect which states those who initiate are more likely to finish the process.
Because the user already initiated the process by clicking on the Download link or button, they are much more likely to complete the process and subscribe to your list.
Sounds crazy right? But it WORKS!
See my results below for an example content upgrade: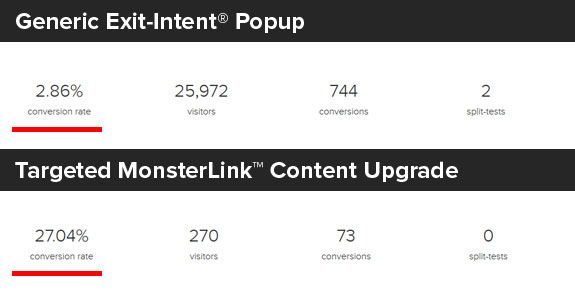 That's crazy results without ever having to create a separate landing page or doing any A/B tests.
The generic popup was running through out the site and was seen by ~26,000 people. Out of which 744 people signed up to my list. I even had 2 split-tests on this.
Then I found a high-traffic page and added a content upgrade to it. Sure it was only viewed by 270 people, but I was able to get 73 conversions without running any split tests.
Yes, that's roughly 9% of all my email signups from one page which only had 1% of all of my traffic.
Now that you know this works, here's how you can do it on your site as well.
How to Get More Subscribers with Content Upgrades on Your Site
Here's my 3 step process that will help you get more email subscribers.
Step 1: Find your High Traffic Pages
Because I was already using a generic OptinMonster popup on my site, I had all my conversion data that showed me my highest converting pages.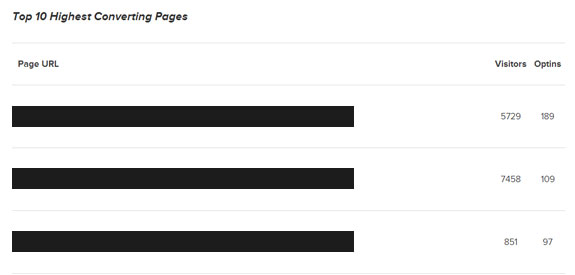 This gave me a clear indicator on which pages I should target.
If you don't have OptinMonster on your site, then you can use Google Analytics to get similar data.
Just go to your Google Analytics account for your site, and then go to: Behavior » Site Content » Landing Pages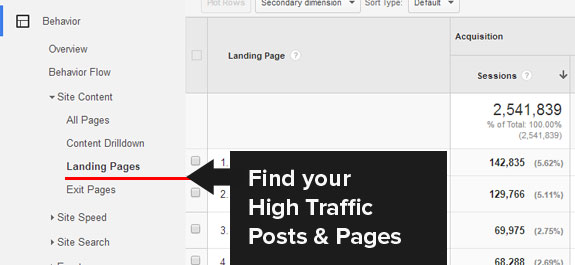 Once you select the page, now you need to actually create your content upgrade.
Step 2: Create your Content Upgrade
The best way to create a content upgrade is by answering the question: "What will make this content even better?"
When you answer that question, you should have a solid content upgrade idea.
Here are some content upgrade ideas that I've seen other people using:
Downloadable PDF version of the Article or Podcast Transcript
Visual Guide / Some sort of Checklist
Additional Resources / Bonus Tips
Exclusive Interview or Report
Step 3: Add the Content Upgrade to Your Site
I used OptinMonster's MonsterLinks™ feature that makes 2 step opt-in super easy.
You would create a popup like you normally would, but then choose the setting called Load on Manual Trigger.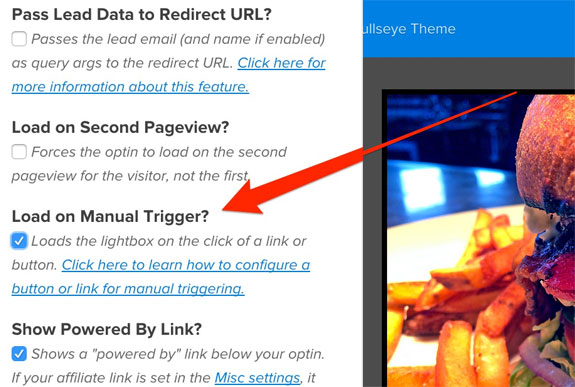 Once your popup is created simply add the clickable link in your post or page. It'd get even better results if you wrap the link with some sort of colored background or an image button.
You can find the full tutorial on OptinMonster MonsterLinks Docs.
Once it's live on your site, just wait and watch your conversions go through the roof 🙂
Using content upgrades with 2-step optins is one of the biggest breakthroughs that marketers all across the industry are raving about. Aside from my astonishing results, others are seeing similar results. One blogger said he increased his conversion by 185% another said his increase was by 785%.
The cool thing is that this process scales well, so the more content upgrades you create, the better your overall conversions will be.
To help with your process, I created a content upgrade just for this post.
[yellowbox]Exclusive Bonus: Download The Content Upgrade Checklist for a step-by-step guide on how to boost your conversions with content upgrades.[/yellowbox]
Try it out and let me know your results in the comments below.
I hope you found these insights helpful. If you liked this article, then let's connect on Twitter and Facebook.