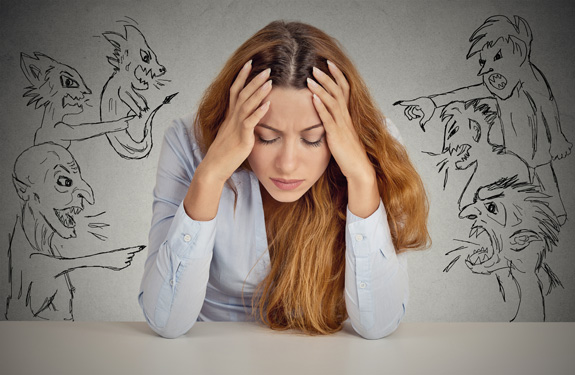 "Why don't you just get a real job?"
If you're an entrepreneur, or an aspiring entrepreneur, you've probably heard something like that quite a few times.
Friends and family generally mean well … but they can be surprisingly negative about your goals and aspirations.
Growing up, my choice of career didn't really fit the norm. You see a normal brown kid is supposed to be a doctor or an engineer (not an internet entrepreneur), well at least that's what we're told.
Now this mentality isn't limited just to Pakistanis or Indians. It's actually quite common in other cultures as well.
While your parents, grandparents, significant others, and friends may only want what's best for you, sometimes their words don't necessarily show it.
This can be very disheartening and may even make you question what you're doing (specially when you're young).
Here's how to deal with well-intentioned negativity.
1. Understand the Motivation Behind It
When someone tells you it can't be done, it's more a reflection of their limitations, not yours! #quote

— Syed Balkhi (@syedbalkhi) September 16, 2015
Negative comments can be really frustrating, and discouraging at times. Remind yourself that the person delivering them cares about you and wants the best for you.
If they're older than you (parents, grandparents, even mentors), they grew up in a different world. Their knowledge and ideas may date from a couple of decades ago – and their comments reflect that.
Normally, people who say things like, "That sounds like far too much work," or "It's not a secure way to make a living," are just worried about you. They might be worried about your stress levels, your health, your income, or even your social standing.
It's always important to remind yourself that they don't know what you know, but also be mindful that you don't know what they know.
I try my best to listen to others' opinion with an open-mind because there's often wisdom there, but it's important not to let the negativity bring you down.
2. Don't Get into a Big Argument
When dad or grandpa tells you, yet again, that you should get a nice safe job as a doctor or engineer, you don't need to go into a long rant detailing exactly why you hate those careers … and why you want to work for yourself. It's unlikely that they will come around to your point of view right away.
Whatever the disagreement is about – try one of these phrases:
"Thanks for the suggestion."
"That's a good thought."
"I'm going to give it a try for a few months. I can always change my mind."
Sometimes, people just want to feel that they've been heard. A polite brush-off beats total silence, or arguing.
It never hurts to listen as sometimes there's wisdom there. Ultimately, though, you don't have to go along with anyone else's advice: make sure you're doing what's right for you.
3. Surround Yourself with Like-Minded People
"To accomplish great things, we must not only act, but also dream, not only plan, but also believe." – Anatole France

— Syed Balkhi (@syedbalkhi) September 17, 2015
If everyone around you is negative about your goals, it makes it that much harder for you to stick with your plans.
To stay on track, look for like-minded people who can counter all that negativity with lots of positive, action-focused energy.
Some possible solutions are:
Join local clubs and groups that are a good fit for your goal. You can find a lot of them on Meetup.com. If you don't, then ask around online, or start up a new group.
Join online forums and communities where people have similar goals to yours. There are tons of awesome Facebook groups that I'm part of myself.
Read magazines, books, and blogs that encourage you on the path to your goal. Although simply reading isn't a substitute for direct interaction with people, a good article or book can both encourage you and give you the practical knowledge you need to succeed.
You may want to start a mastermind group with a small number of people who are dedicated to similar goals to yours. This can be incredibly motivating and encouraging, plus it allows you to share hard-learned lessons so you don't all make the same mistakes.
I'm part of several masterminds myself and they're tremendously helpful. Most masterminds that I'm now part of are paid, and I feel that motivates everyone in attendance to show up and bring value to the group.
4. Get Buy-In from the People who Really Matter
Chances are, there are very few people who's opinion makes a real difference to your life. For most of us, those are:
A spouse or live-in partner.
Parents (if living at home, or financially dependent on them)
If your spouse is deeply concerned about you, say, quitting your job to launch your business, then you need to have some tough conversations – and perhaps come up with a compromise.
For instance, you could:
Agree to a half-way plan, where you stick with your day job for 3 days per week and build your business in the remaining 2 days.
You could wake up early and run your business as a second job until it provides enough revenue to justify quitting your job.
Delay starting your business for a year, while you save up an emergency fund, so you're covered for a few months if you do get off to a slow start.
Discuss changing your joint lifestyle to assist with your goal – figure out what you're both willing to give up, and what you want to preserve. (Perhaps you're happy to skip your annual pricy vacation, but you want a nice meal out once a month.)
If your goal directly impacts on your spouse, parents, or other significant people, accept that they may have reasonable concerns.
There's no magic way to get people to "buy in" to your goal. Make sure you allow time for them to share their concerns. Think through what you're willing to compromise, at least initially, so that they can be more fully supportive of your goals.
5. Watch What YOU Say
Sometimes, negativity can be a reflection of your own words and attitudes. This happens in a couple of ways:
You talk about your goals, but in negative terms. Instead of saying, "I'm looking forward to finishing this client project tonight," you say, "Ugh, I have this client project that needs to be done tonight." Understandably, the people around you may well end up saying, "Oh, it's not good for your mental health – you should get a regular job."
You're negative and discouraging to other people. (This might be hard to admit to.) Perhaps your brother or sister has a goal that seems silly or meaningless to you. Even if it wouldn't be your dream, it's theirs, so be positive and encouraging.
Next time you say something negative, try to figure out why – and what you could have said differently. Then, try to watch out for times when you're tempted to moan about your own goals, or put down other people's, and say something positive instead.
Have you ever faced well-intentioned negativity? What did you do (or not do) to mitigate it? Share your experiences in the comments below.