Are you having a hard time achieving your goals? It can be easy to lose sight of the bigger picture when you're wrapped up in the busy day-to-day of life. I often get asked about my goal setting process. Here are my 8 tips on how to set goals and actually meet them.
Aside from sharing how to set good goals, I'll also share my favorite goal tracking apps that will help you with accountability.
Remember, without goals, it's tough to really achieve anything of value.
Here's your simple, yet powerful, guide to setting great goals and achieving them.
1. Set Goals YOU Care About
Don't go after a goal just because you think you "should" – or because someone else wants you to. Your mom might want you to become a doctor, your best friend might want to work on a business together … but those aren't necessarily the goals you truly care about.
Only set yourself a goal if it really matters to you because that's only way you'll actually follow through.
2. Don't Take on Too Many Goals
There are only so many goals you can chase at once. 
Look at it this way, would you rather make a half-hearted effort at ten goals, only to give up on all of them, or put everything into two life-changing goals … and achieve them?
At any given point you should have maximum of 5 – 7 goals.
If you're new to goal setting, or if you've not had the success you wanted in the past, then try sticking to just 3 to begin with.
You might want to pick one top goal in three key areas of your life – perhaps career, health, and family.
3. Write Down and Review Your Goals

I'm sure you already know about my obsession of writing things down.
Like your to-do list, you need to write your goals down. It helps you to commit to them (and to simply remember them, if you have several).
Now some people write down their goals in their diary, and never look at them again. Don't do that because that doesn't help anyone.
You need to write your goals at somewhere prominent such as a whiteboard, a poster near your desk, or even your refrigerator.
4. Create Short-Term Goals that Lead to Long-Term Goals
Setting a bunch of individual goals may help you make some improvements in your life, but if they're not joined-up, it won't lead you to anything great.
It's often helpful to start by thinking about your long-term goals.
For instance, if you want to build a six-figure business, then that will take some time. In order to keep yourself motivated and celebrate small victories, you need to break the goal down into sub-goals such as:
Launch website / blog for the business
Get first 100, or 1000 clients/customers – whatever makes sense for what you sell
Employ a virtual assistant once the business is making a certain level of profit
… and so on. Depending on how far you drill down, your sub goals would be an action plan for reaching your goals.
5. Decide What You're NOT Going to Do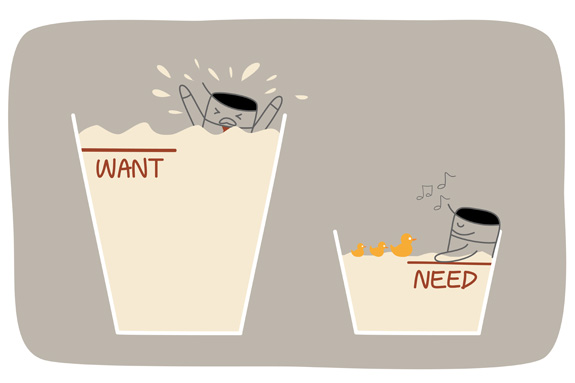 Having your long-term goals in mind lets you weed out ideas or tasks that aren't in line with your highest priorities right now.
Write a list of what you're not going to do. For instance:
I won't take on any extra responsibilities at work.
I won't work during the weekends.
I won't take that trip this summer.
This might mean getting better at saying "no" to other people's requests – whether reasonable or unreasonable.
By having clear boundaries, it's easier for you to say, "Sorry, I can't take that on right now."
6. Make Your Goals S.M.A.R.T.
You've probably come across the S.M.A.R.T. framework before, but in case not, here's how it works.
Your goals should be:
Specific – goals like "get in shape" or "make more money" or "be a better parent" are doomed to fail, because they're vague.
Measurable – you need to know where you are on the path to your goal. "Lose 50lbs" or "make $80,000/year" are goals you can measure.
Achievable – it's good to stretch yourself, but don't make your goals totally unrealistic. "Make $100,000 in the next five weeks" is probably unrealistic if you're currently making $500/month.
Relevant – your goal should matter to you and fit with the bigger, broader goals within your life – so "lose 50lbs" makes sense if you've set health and fitness as a key priority this year.
Time-bound – a goal without a deadline can drag on and on, so decide up-front when you want to achieve it by. "Make $80,000/year by the end of 2018" works, as does "Lose 50lbs before Christmas".
Take a look at your current list of goals, and see whether any of them need a tweak to bring them into line with the S.M.A.R.T. framework.
7. Track What You've Achieved
Keeping track of how far you've come is crucial for both motivation and organization.
If you realize you're going off-course, then you can easily get back on track quickly – before you lose momentum.
You could simply track your progress using pen and paper, but if you'd prefer a more high-tech solution, there are several great apps available. You might try:
Nozbe – While Nozbe is primarily a task management app, it's also great for tracking your progress towards larger goals.
Strides – This app offers four different types of tracker, making it suitable for different kinds of goal. You can track all your goals and see your progress towards them on a single screen.
StickK – If you need a little extra motivation, how about putting some money on the line? StickK lets you track goals … with the added twist that if you fail to reach your targets, your money gets taken (and given to the charity of your choice).
8. Get Accountable to Other People
Knowing that someone else is watching you succeed (or fail) can be a powerful motivator. Use this to your advantage and build some level of accountability into your goal tracking.
That could mean:
You have a friend or colleague who you regularly swap goal updates with.
You post on your blog every week or month about your progress (assuming your goals are relevant to your blog).
You ask your social media friends and fans to keep you accountable.
You use an app like irunurun to share your progress with followers.
You ask your wife to keep you on track (works great for me)
What's your most important goal right now? Turn it into a S.M.A.R.T. goal, then share it in the comments to start making accountability work for you.
Also, you should check out my productivity hack where I share how I added 5 more hours in a day and grew my business.