Everybody I have talked with is complaining about their Facebook page reach going down. That's because the organic Facebook reach has slowly declined for most Facebook pages. Unlike others, 2015 was a huge year for WPBeginner on Facebook. We increased our Facebook traffic by 332 percent, and the crazy part is that almost all of our updates were links to our blog posts.
So no, we did not use viral photos, videos, or meaningless polls. I'm sure if we did, our results will be similar to what List25's page has.

In this article, I will share my tips on how to increase Facebook reach for your blog or business pages.
How is Facebook Reach calculated?
Before we talk about how I increased the Facebook reach, it's important to understand what is your Facebook page's reach based on.
Currently Facebook has over 100,000 different factors that go into making up your Edgerank.
However from my experience, there are only two that you should really care about.
First is user's previous interaction with your page / brand.
If a user regularly interacts with your links (i.e like, comment, or click on it), then they clearly love seeing your content thus Facebook is more likely to show your links in their newsfeed.
Second is the overall interaction on a specific post from other users who saw the post.
Basically Facebook shows your new posts to a small group of your users. Based on their interaction, your post gets a score and is shown to even larger group of your audience.
What's the Problem with Facebook Reach?
The best way that I can describe the Facebook organic reach problem is the Domino effect.
If you have one bad post, then it will impact the reach of your next post.
Now since less people see your next post, there will be even lower number of interactions which creates a negative chain reaction. Before you know it, your page's organic reach vanishes.
This is exactly what happened to us in 2014 when our Facebook reach and traffic dropped.
But what if you can reverse the circumstances? Will the reach come back?
The answer is Yes.
If one of your post does really well, then your next post will have a better chance of succeeding due to increase in visibility.
So how can you increase your Facebook reach?
Increasing Your Facebook Page's Reach
As I was losing my organic reach, I tried to do all sort of tricks that you've probably heard of.
Post images, run surveys, publish on the "best" times, increase / reduce frequency, and more.
None of those tricks were working.
So I started comparing WPBeginner fan page with my other viral Facebook pages. The one thing that was drastically different was the number of new fans we added every week.
*Aha Moment*
I need new fans who're engaged and that will help me re-engage my old fans thus increasing my overall reach.
Ok, but how do I get new fans?
Retargeting!
It works for products, so why wouldn't it work for blogs right?
Since WPBeginner is 100% free, I never added a retargeting pixel.
Step 1: Add a Facebook Advertising Pixel on the website. (See full instructions)
Step 2: Boost your posts to your website audience – $5 for every post (we published one post a day, Monday – Friday).
By boosting your post to folks who visited / interacted with your website recently, you get your content in front of someone who remembers you. Not only are they going to like your post, but they'll probably like your page as well.
This new engagement (although paid) helped us create a positive chain reaction.
Shortly after, we stopped boosting daily posts and switched to boosting 1 out of 3 posts.
To further improve our reach, I shared our older articles that have been well received on Facebook (i.e posts with a lot of Facebook likes / shares).
Since Facebook knows that this particular item was well-received in the past, they're more likely to display it to a large group of my users.
I would then boost these older articles to further expand my reach and get even more new fans.
It took me about a month to get things back to normal and then I was like why stop now?
Result: 332% increase in Facebook traffic to WPBeginner.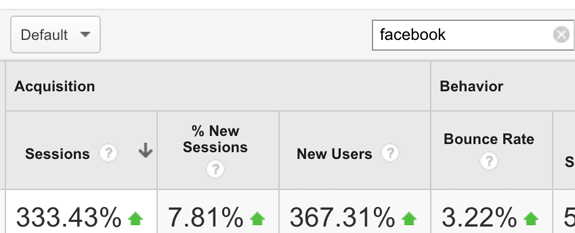 Note: the screenshot shows 333% because I took the screenshot a day after I wrote the article, and it's comparing between Jan 1 – Dec 31st of 2014 to Jan 1 – Dec 22nd of 2015. So this number will actually be a little higher.
Conclusion
If your Facebook organic reach is declining, then use the strategy I shared above to increase your Facebook page reach.
Yes you're going to have to pay a little bit, but if you can grow your traffic significantly by spending a few bucks, then it's totally worth it.
Remember, most business owners are still wasting their time trying different organic tricks, so you have a head start.
100% organic reach is dead. But you can still take advantage of the paid + organic combo while competition is low.
For answering this question helped: Would I rather spend nothing and let my Facebook traffic die or spend a few pennies to 3x my traffic?
The answer was simple.
I hope this article helped you increase your facebook page reach. You may also like my article on 14-point blog post checklist to use before you hit publish.
If you liked this article, then please consider following me on Twitter (@syedbalkhi) and liking my Facebook page.