As entrepreneurs, we have way too many meetings. Whether it's one-off events or the weekly check-in with employees, meetings can take up an increasing amount of time. Not to mention, they're a huge productivity killer.
But removing meetings isn't always the best way to take back your time. Here are some tips that helped me be more efficient with my meetings.
1. Create a Time Block for Meetings
The worst thing you can do is allow meetings to dictate your day.
Often people have inefficient gaps between meetings (i.e 30 minutes – 1 hour). This is a huge productivity killer.
By the time you get off your meeting, start on your next task, you're disrupted with the alert for your upcoming meeting.
This is why I have a dedicated time block for meetings. It allows me to work in focused batches where I'm in my zone without any distractions.
You can experiment with the length of the block based on your needs, but my advice is to only have 1 block on any given day for meetings. If your schedule permits, then limit the meeting time blocks to only certain days vs having it every day.
By using this technique, you are able to better plan your day and maximize your productivity.
2. Use a Scheduling App to Save Time and Avoid No-Shows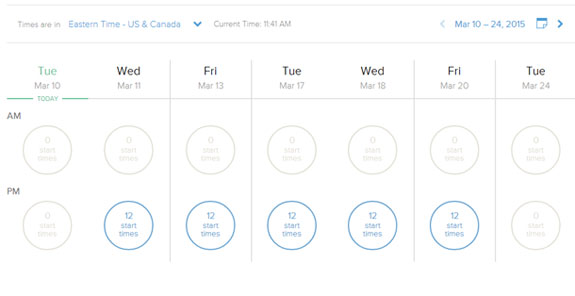 Don't have a secretary or virtual assistant? Then you probably understand the pain of scheduling meetings.
The email back-and-forth that you go through to come up with a time that works for everyone is time consuming. Worst when that time is spent in vain due to a no-show because someone forgot to send a calendar invite or a reminder email.
This is why you should use a meeting scheduling app. I use Calendly which is a free app with premium options. It integrates into my Google Calendar, sends personalized notifications once a meeting is booked, and also send automated reminders.
If you spend 30 minutes every week in the email back-and-forth to book meetings, then this will save you a total of 26 hours (1,560 minutes) every year.
When you are ready to book a meeting, instead of playing email tag, just send them your Calendly link. It will show them the times that are available on your schedule, so they can pick what works best for them and schedule a meeting.
3. Reduce Your Meeting Lengths
Your meetings should always produce a committed action plan.
I find that it's easier to accomplish this with shorter focused meetings vs long meetings that tends to be all over the place.
You should reduce the meeting length to maximum 45 minutes. Try for 30 minutes or even 15 minutes.
You may think it's not possible, but it is as long as you stay on point.
Shorter meeting lengths really force others to come prepared specially if you are strict with your start/end time.
This brings me to my next point.
4. Start and End Meetings on Agreed-Upon Times
You should always start and end the meeting on time regardless of people who are late.
At the beginning of the meeting, ensure that the desired outcome(s) are stated clearly.
Lead the conversation to ensure that your goals are met and end the meeting on time.
This will allow you to set the right standard within your company.
What tips do you use to make your meetings more productive?
P.S. you should also check out my article on 5 productivity hacks every busy entrepreneur should try.