So you've been approved to write a guest blog post on your target blog. Congratulations … but don't sit back and relax just yet.
If you want your guest post to bring you the attention, traffic, and customers, then you need to be proactive about making the most out of it.
Here are nine ways to maximize the benefits from every single guest post that you write.
1. Link to Your Own Posts from Your Guest Post
Many bloggers do this automatically, but some either forget to or worry that their post will be rejected if they link to to their own work.
While you need to avoid being overly self-promotional, there's nothing wrong with linking to relevant and helpful posts that you've written. Make sure that you include other links too – particularly to content on the host blog.
2. Link to Other People's Posts or Products
If you're not doing this, you're missing a brilliant networking opportunity. Find a good article that someone else has written and link to it within your guest post.
This not only helps you avoid giving the impression you're only interested in promoting yourself (see #1), it also helps you build a relationship with the blogger you're linking to.
You're giving them a high-quality link and hopefully a good boost in traffic.
The person you link to may get a WordPress alert about the new backlink, but you might want to drop them a quick tweet or email to let them know as well.
3. Use Your Bio Effectively
Too many bloggers have a bio that just links to their blog's homepage. Unless they've got a really intriguingly named blog, they're unlikely to get a lot of click-throughs.
When you craft your bio, try linking to:
A specific post on your blog that ties in with your guest post.
A free opt-in incentive (to get them onto your email list).
A product or service that you offer – again that fits with your guest post.
You'll likely see much better results this way.
Here's an example of Jonathan Goodman's bio on Problogger blog which offers a targeted free opt-in incentive.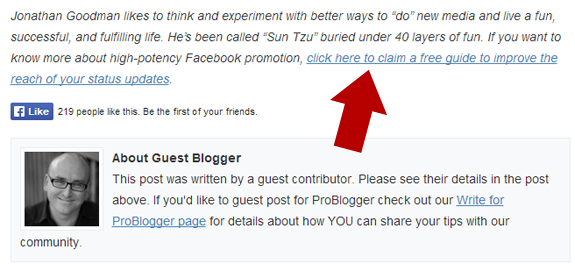 4. Prepare Your Blog (and Social Media Accounts)
Minutes after your post goes live, your blog could see a huge influx of traffic. Great news – if you're prepared.
If you haven't posted on your blog for a month, or if your About page is years out of date, or your email subscriptions are broken, then new readers will get a poor first impression. That hard-earned traffic will vanish, fast.
So if there's something you know you need to do or fix, make time for it before your guest post goes up.
Don't neglect your social media accounts, either. Even if you don't link to your Twitter account from your guest post bio, you may find that people seek you out, so they can retweet the post.
5. Promote Your Post on Social Media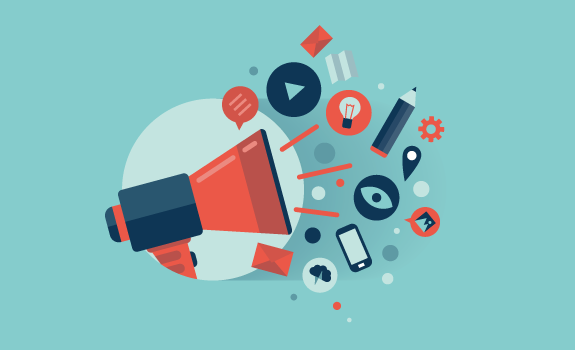 Even if the blog you're guest posting on is much bigger than your own, and the host blogger has tens of thousands of Twitter followers, it's still important for you to promote your guest post.
Some blogs even make it a requirement that guest authors do this.
The host will appreciate it, and you never know you might be able to send a few extra visitors their way. Your fans and followers will probably be excited to see you posting on a big-name blog which helps add to your social proof.
6. Link to Your Guest Posts from Your Blog or Newsletter
Don't assume that your readers will necessarily notice your tweet or that they read the blog you've guest-posted on.
You can link from your blog or an email newsletter in one or more of these ways:
Drop in a link when the guest post is relevant to the context (e.g. "I wrote more about this here…")
Have a dedicated section in your newsletter to round up your guest posts for the previous month, if you guest post regularly.
Add a page on your blog to list all your guest posts – handy for any die-hard fans who want to track down everything you've written.
7. Answer Comments Promptly
Set aside some time on the day your guest post goes live, so you can check and reply to comments. You don't have to get back to people instantly, but it doesn't look good if you leave comments unanswered for several days.
Replying to a reader's comment lets you start building a relationship with them – and may well prompt them to check out your blog or your products. Plus, making a good impression on readers will show the blog's owner or editor that you care about their audience.
8. Follow Up with the Host Blogger
If you do all (or even most) of the above, then there's a strong chance your host blog would love to welcome you back. Don't just assume this will happen automatically, though.
A few days after your post goes live, drop the blog's owner or editor an email to say "thanks". Tell them how much you enjoyed writing that article, and say that you'd love to write for them again.
In many cases, you'll get an instant "Yes, please!" – and you'll be well on track to making your name a familiar, respected one for that blog's readers.
9. Become a Regular Guest on Several Large Blogs
Could you write a guest post every month for three or more blogs in your niche? While it can be tough to find the time, it's a really effective strategy for building a large readership fast.
If you do all the tips mentioned above, chances are that other top blogs may approach you. Or if you approach them, then they are more likely to say YES.
By writing for several big blogs (plus your own!), readers will see your name all over the web. You'll be positioning yourself as an expert with plenty to say.
Even if you can only write regularly for one or two blogs, it's still worth doing.
Some blogs offer benefits to regular guest posters – perhaps a mention and link on their About page or even a financial reward. Rather than spreading yourself too thin and trying to write a post for every single blog in your niche, focus on the top blogs and make yourself an indispensible part of their team.
Do you have a any other suggestion to add to my list? Pop yours in the comments below – or tell me which of these 9 tips you'll be putting into practice with your next guest post.
If you liked this article, then please consider connecting with me on Twitter and Facebook.