Forms have been part of the web for quite a long time. Just google the word "contact form", and you will see over 210 Million results. Even if you search the WordPress.org plugins directory, there are 1000+ plugins with a tag "contact form".
When the news first got out that we're launching WPForms, a WordPress contact form plugin, several people asked me WHY?
Aren't there enough contact form plugins out there? Doesn't Gravity Forms do everything you need a WordPress form plugin to do anyways?
So as we start the hard launch process, I wanted to share our behind the scenes story that led to the creation of WPForms.
The WPForms Inspiration
Adding a contact form in WordPress is hard for beginners.
For example: the most popular contact form plugin, Contact Form 7, has over 4 million active installs, and this is their version of "simple but flexible":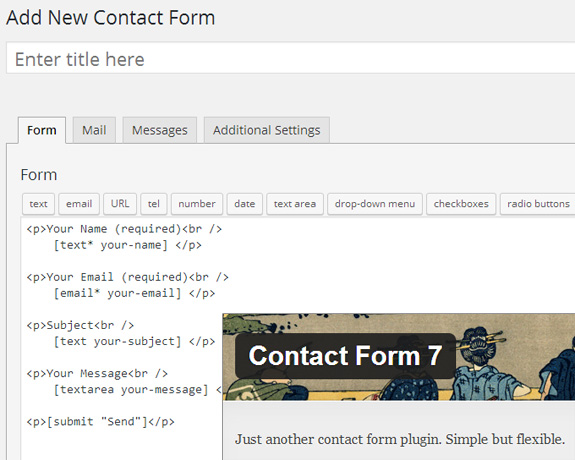 And sadly that is not the only example I have.
If you run as many beginner WordPress workshops as I have, then you will understand my frustration.
But you don't really have to run a beginner workshop to understand this.
You just have to build a website for someone else or help someone setup their own site, and you will know exactly what I'm talking about.
I have several developer friends who want to do a clean hand-off to clients, and it's things like form plugins that keeps the client coming back for smallest "low-profit" tasks such as updating notification emails.
This shouldn't be HARD, but it is!
That's the problem I want to solve.
My inspiration behind WPForms was to create the most beginner friendly WordPress contact form plugin in the market.
And that's exactly what we did.
Instead of building from a feature-first mindset, we built from a UX-first mindset.
We made simple tasks EASY rather than letting the complex tasks define how hard simple will be.
Our goal is not to build the most feature-rich plugin. That market is well-served by my friends over at Gravity Forms.
The mission is to build a form plugin that's EASY for beginners, marketers, and business owners who are not tech savvy.
A plugin that I can recommend to churches, non-profits, and startups who don't necessarily have a budget to afford a premium plugin. WPForms Lite is 100% free and has all the basic features that you need.
But the best part is that my wife can use it on her website without my help 🙂
Beginning of a New Partnership (WPForms Backstory)
WPForms is a partnership between my holding company and my good friend Jared Atchison, top-notch WordPress developer & consultant.
The idea for WPForms started in 2014 at the first-ever CaboPress, which is a great event for WordPress entrepreneurs.
Even though I first met Jared in 2012 at the first WordPress community summit, I didn't really get to know him at that point.
At CaboPress which is a mastermind style event, we had some amazing conversations.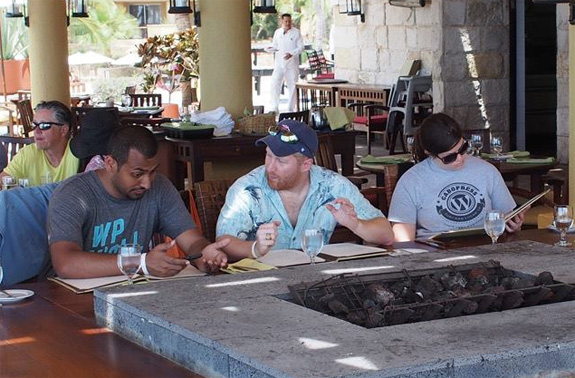 But the most memorable one was our outrage against the UX of most contact form plugins for novice users. The part that really made it memorable was two beginners trying to learn how to smoke Cuban cigars in Mexico while posing for what turned out to be a pretty kick-ass photo.
As we joked about creating this hypothetical plugin that'd solve all the contact form UX problems, I gave it a super original name "WPForms".
And it stuck, LOL.
Shortly after the event, we both agreed that we actually wanted to go through with this crazy idea and registered WPForms, LLC in July of 2014.
We had a partners meeting in August at my mountain house in Asheville where I invited both Thomas Griffin (my partner in OptinMonster) and Jared (who will be working with me on WPForms).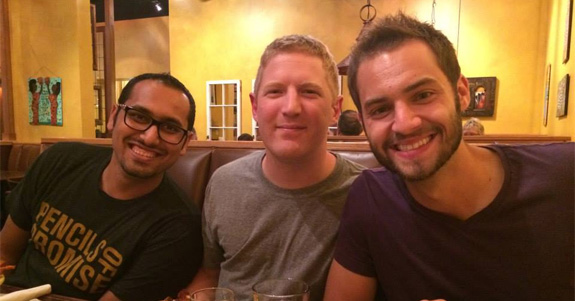 I was super busy with growing OptinMonster and Jared was about to have a baby, so not much progress was made that year.
In 2015, Jared started the development on WPForms based on the few sketches that I drew up.
Since he did full-time consulting and had a new-born baby, WPForms was a side project until the last half of 2015.
Basically after the Awesome Motive company retreat (where Jared was an honorary member).
In December, Jared showed me a working demo of WPForms, and I was like WOW.
I pinged my designer to create a Mascot which we ended up naming Sullie.

Before you ask, no there is no story behind the bear. It's just cute.
I re-skinned the entire builder so it looks pretty and created the marketing site.
The first two months of 2016 was rigorous testing and improvements.
And here we are.
If you're thinking about doing a business partnership, then read my article on how to choose the right business partner where I share 7 tips that I have learned overtime.
What's Next?
My work is just starting as I plan a hard-launch this week and work on executing our marketing plan.
Jared is working on some really cool ideas and add-ons that I want to add to the plugin.
It was really cool to see this idea getting validated in January when I did a WPBeginner Audience Survey.
One of the questions I asked was, if you could have us build one product what would it be:
The top response was a contact form plugin (collected from variations like: form builder, form submission manager, forms connected to payment options, etc).
There were some really cool ideas in that list some of which will be built into WPForms.
I would really love it if you guys check out WPForms and give me your honest feedback.
Like all of my launches, we have a limited-time Ultimate Plan that grants you lifetime access to WPForms and all future add-ons and new features.
Note: The ultimate plan is super limited and it's at the lowest price right now ($349). We'll do two price increases before completely removing this option altogether because I know how valuable this is.
That's it for now.
A lot more exciting stuff is coming this month and the next as it relates to my other products, but for now have fun using WPForms.