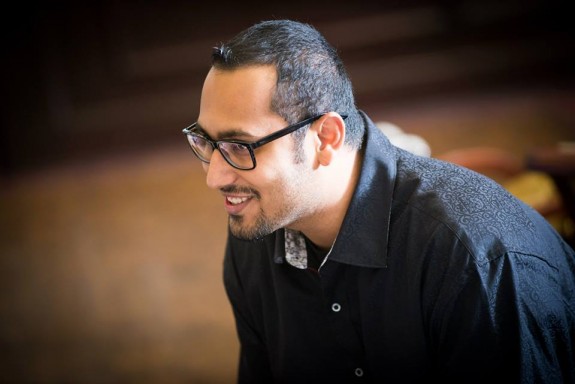 Hello, my name is Syed Balkhi, and I'm a 28 year old award-winning entrepreneur with a strong 8 figure online business. I was recognized as the top 100 entrepreneur under the age of 30 by the United Nations.
This is my personal blog. It is focused on "building businesses online" where I share my journey and experiences with you.
My goal is to create insightful and relevant content that you can put to work in your personal and professional life. If you have an online business — or want to have one, then this blog is for you.
My Story
I was born in Karachi, Pakistan. Ever since I can remember, I have been extremely competitive which makes me hustle at everything that I do.
I started my first business when I was 7 years old selling holiday greeting cards for Muslim holiday (Eid). My mom gave me the initial funds to start, and it was a successful venture. I tripled her investment within a month.
I loved it so much that I replicated it by selling flags for Pakistan's Independence Day celebration. This too was profitable.
The entrepreneur spirit in me could not stop there. I wanted to expand from doing seasonal sales to doing something more regular.
With the help of my mom and grandmother, I started a small snack shop for my neighborhood when I was 9 years old. This was extremely profitable.
At age 12, my family immigrated to the United States.
I found myself facing some of the biggest challenges of my life. I had to learn a new language while dealing with racial tensions from the 9/11 incident.
It was hard for me to make friends when I didn't know the language. I turned to the internet to find a hobby, and I found myself spending majority of my time playing online games.
On the side, I was searching for something I can do to earn extra money because like most immigrant families, we were financially struggling.
My cousin pointed me to the domaining industry, and I jumped right in. With little guidance, I was able to buy and sell domains.
This gave me a little bit of extra cash, but I still had one problem.
No social life!
High school lunch breaks were the worst as I sat in the library trying to play games, but most gaming sites were blocked by the school firewall.
Out of frustration, I learned how to bypass the firewall and created my first web proxy.
When other kids saw me playing games in school, they asked me how I was doing that. I saw the demand and seized the opportunity.
I decided to control the entire chain, so I created numerous web proxies along with arcade sites. This way, I could maximize my advertising revenue.
To promote my web proxies and arcade sites, I started creating web directories.
Next thing you know, I found myself deep in the SEO industry working with some very large brands.
At the same time, I started my freelance web development business.
Fast forward few years, I graduated high school and attended University of Florida — Yes, I did graduate with Honors in Anthropology and Religion.
Through out college, I further expanded my online businesses, but I couldn't keep up.
In 2008, I decided to migrate all of my clients from static websites over to WordPress, so I can get rid of the maintenance part of our business.
Next thing you know, all of my clients were asking questions on how to use WordPress.
In 2009, I created WPBeginner, the largest free WordPress resource site!
In 2011, I created an entertainment site, List25, with my college roommate and best friend David Pegg. It got to over 2.3 Million YouTube subscribers and over 550 million video views. Update – I sold List25 in October 2018.
In 2013, I also launched a product called OptinMonster that helps businesses grow their email list.
In 2013, I acquired ThemeLab where we sell high quality premium WordPress themes. We decided to shut this down in 2016.
In 2014, I became a partner in SoliloquyWP, the fastest responsive slider plugin for WordPress. I also became a partner in Envira Gallery – a responsive WordPress gallery plugin to help you showcase your photos. Update – We sold Envira and Soliloquy in Dec, 2017.
In 2016, I launched WPForms, a drag & drop WordPress form builder with a single goal: make the most beginner friendly WordPress forms plugin. Currently it's being used by over 1 million websites.
In 2016, I acquired the largest Google Analytics plugin for WordPress and renamed it to MonsterInsights. Currently it powers over 2 million websites.
In 2017, I launched IsItWP, a useful WordPress tool that tells you what themes and plugins a website is using.
In 2017, I acquired the largest WordPress SMTP plugin, WP Mail SMTP. Currently over 1 million websites use it.
In 2018, I acquired Google Analytics Dashboard for WordPress and rebranded it to ExactMetrics. Currently it's being used by over 1 million websites.
In 2018, I acquired SeedProd, the most popular coming soon & maintenance mode plugin for WordPress. It's being used by over 800,000 websites.
In 2018, I also invested in MemberPress, PrettyLinks, Affiliate Royale, and Formidable Forms through my Growth Accelerator Fund.
Through my entrepreneurial journey, I had several failures (not-listed above). I simply learned from those and kept moving forward.
My Personal Life
I am happily married to my beautiful wife, Amanda Balkhi. She is super smart and has a p.h.D in Clinical and Health Psychology.
We currently live in West Palm Beach, Florida.
We have two loving and sometimes annoying dogs. Want to see their picture? Head over to my article: 6 important business lessons I learned from my dog.
Recently, we had our first kid, Solomon Balkhi. He has been a true blessing, and I'm definitely learning a lot. As they say, parenthood isn't always easy, but it's lots of fun.
In my free time, I enjoy swimming and hanging out with my family.
Finally…
Thank you for taking the time to read this.
I know I have an inspiring story, but I want to inspire you in the right way.
Everything I say is from my personal experience. None of the things I share will make you "get rich quick" — far from it.
Building an online business takes a lot of time, hard work, patience, and luck.
My goal here is to share my experiences, lessons I learned, case-studies, and resources to help you build a successful online business.
I hope that you enjoyed the story of my life.
Once again, thanks a lot for taking your time to read this. I look forward to connecting with you.
Cheers!
-Syed Balkhi