2021 is ending on a high note, but if I had one word to describe this year, it would be perseverance.
It was an incredibly hard year for many people, including me, but as the year comes to an end, I am proud of all the things that we accomplished.
Since so many things happened, I didn't get a chance to document it all in one place. This is why I do a yearly recap each year (2020 | 2019 | 2018 | 2017 | 2016 | 2015), so I can keep a diary for myself to reflect on as I get older.
I have also been told by many friends, family members, and readers that they love my year end recaps, so that is just double motivation for me to write this blog post.
Plus, I think it's going to be helpful for Solomon as well.
Let's take a look back at everything that happened this year (caution: it's very long).
Here's a table of content in case you want to jump to specific sections:
Personal Highlights
I think it's fair to say that we've all had to adapt to a "new normal".
After the crazy year of 2020, I made it a priority to spend maximum amount of time with family.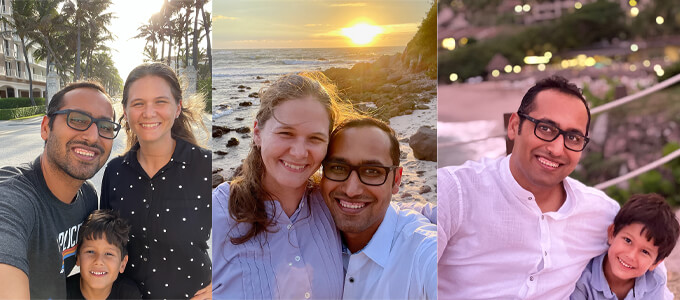 We started the year with a roadtrip to the Florida Keys with Amanda's parents. It was gorgeous weather, and I was able to work while enjoying the outdoors.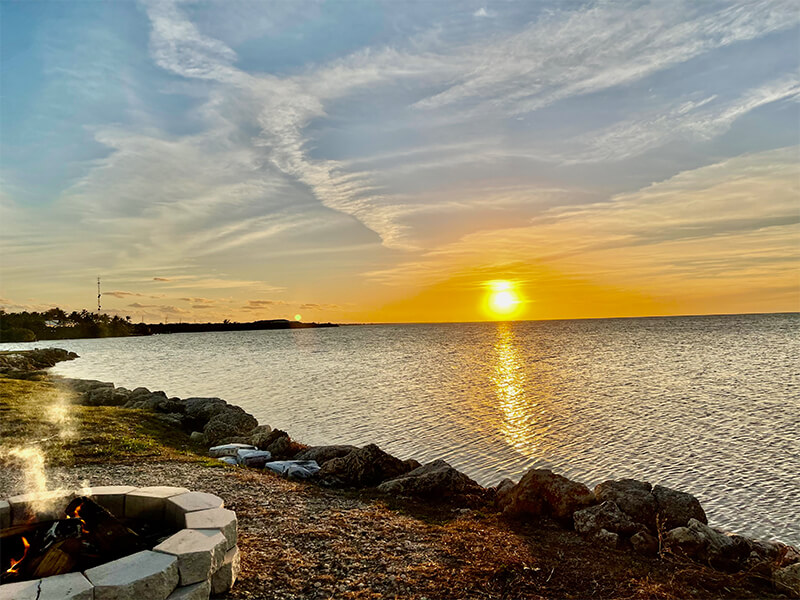 I started carrying an ASUS portable monitor, and it has been a game-changer for productivity while traveling. I'd say it's a MUST HAVE for everyone who's living the #dotcomlifestyle.
In February, we did a get together with the families of two of my friends, Thomas Griffin (OptinMonster), and Benjamin Rojas (AIOSEO).
We rented a huge house in Orlando where the three of us were able to get some planning sessions in while the families got to spend quality time together.
In March, we did another get together with the families of my friends, Jared Atchison (WPForms), John Brackett (Smash Balloon), and Chris Christoff (MonsterInsights).
We rented a beach house near Destin, FL. The families had a blast hanging out, playing games, and enjoying delicious food. We had an awesome work set up in the theatre room, and we were able to get several great brainstorming sessions in.
Note to self: the water is really cold in March. Destin is much better during summer. Although, Solomon and kids didn't care and went in the water anyways.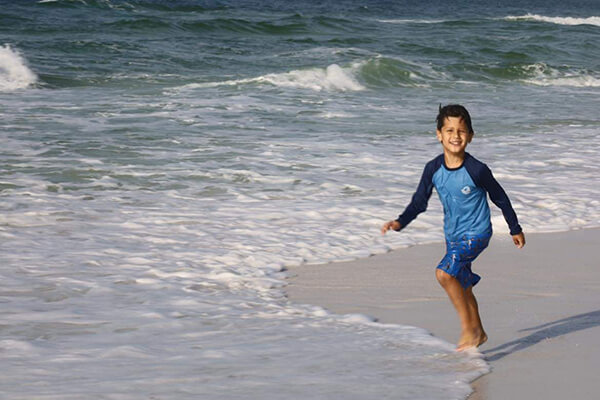 In April, we moved into our new house. I saw this property a few years back and really fell in love, but it was overpriced. I even took the floor plan from the realtors and said whenever we build our next house, we'll just build this.
Fast forward to 2021, the house came back on the market, and we ended up getting a bargain even in this crazy hot real-estate market. We paid less than what previous folks paid a few years back.
Some things are just meant to be 😀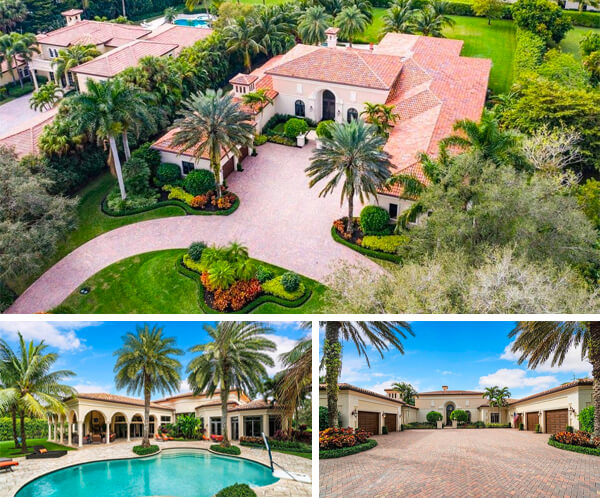 After moving in, I have built a multi-purpose sports court to play basketball and pickle ball.
An added bonus is that we have a lot of banana trees, coconut trees, and several other herbs in our garden. I kid you not, we had over 1,000 coconuts this year, and the coconut water is very sweet.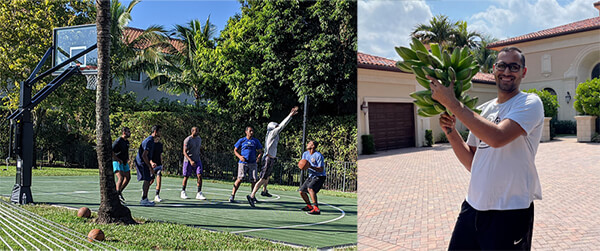 In May, we did a quick siblings trip in Miami since my brother had come back from his Navy deployment.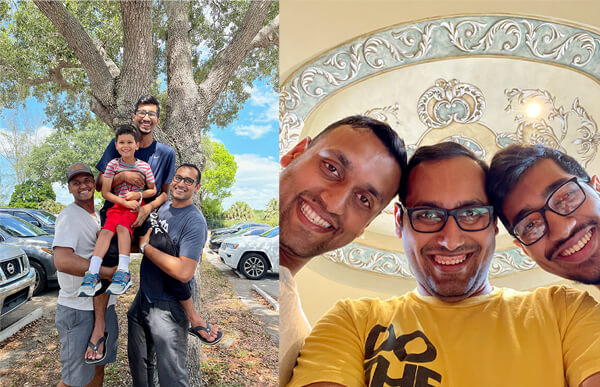 We also had all the family at our house for Eid, and it was A LOT of fun.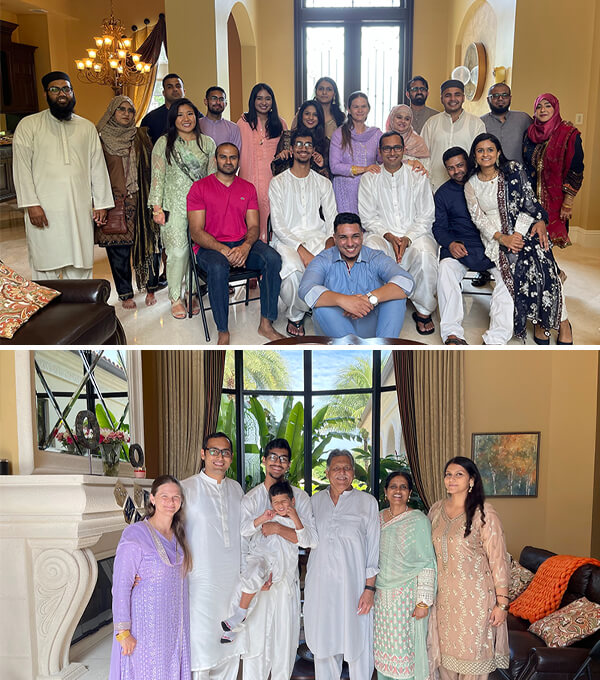 In June, I took my parents and siblings to Punta Mita, Mexico (at our favorite resort). We spent the Father's Day week there.
Here are some great family photos: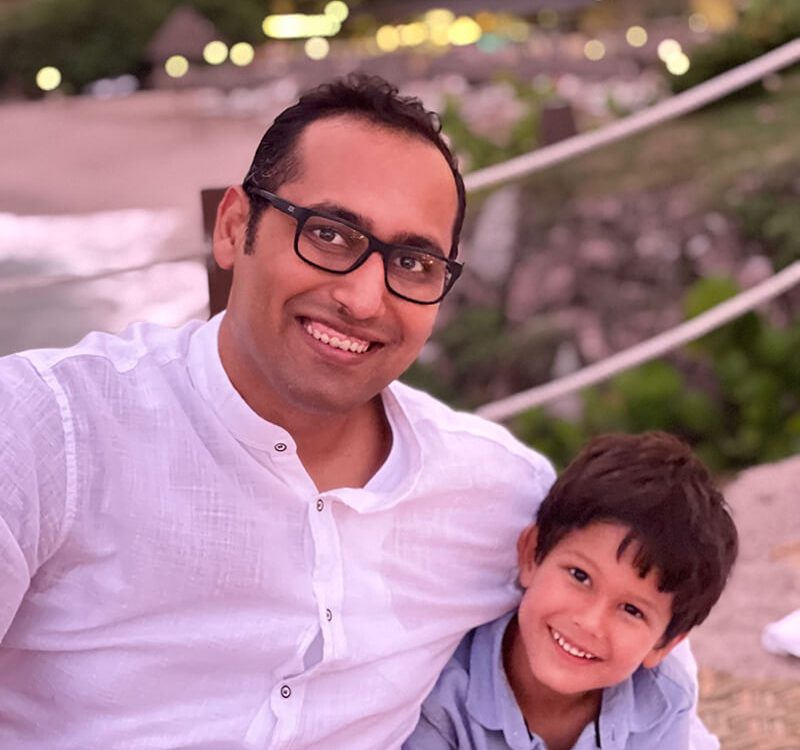 Late June and early July, I had two teams visit in West Palm. First was the OptinMonster leadership team, and the second was Blair Williamson from MemberPress.
In August, I flew to Houston for a mini-meetup with the WPForms leadership team.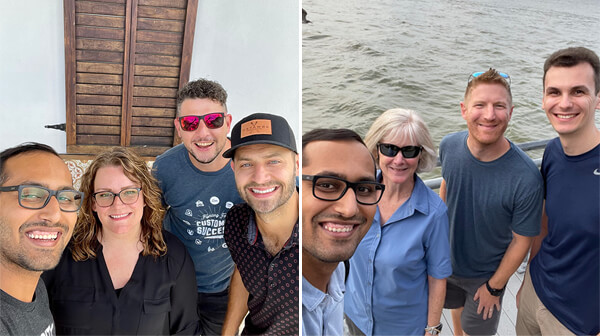 In August, I also had a mini-WPBeginner content planning meetup in Orlando where some of the team was able to fly in.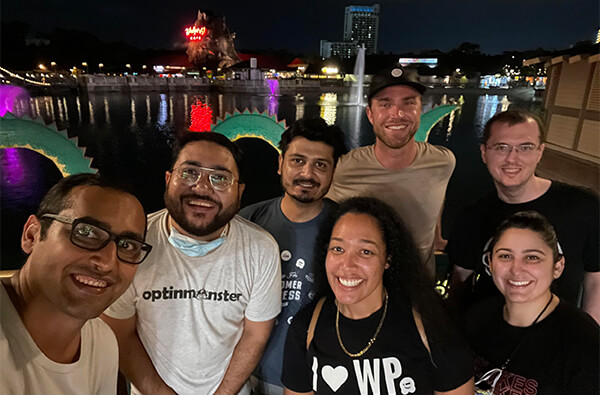 In September, we had our WPBeginner Growth Fund retreat with founders + families in Punta Mita, Mexico. This is becoming one of my favorite places.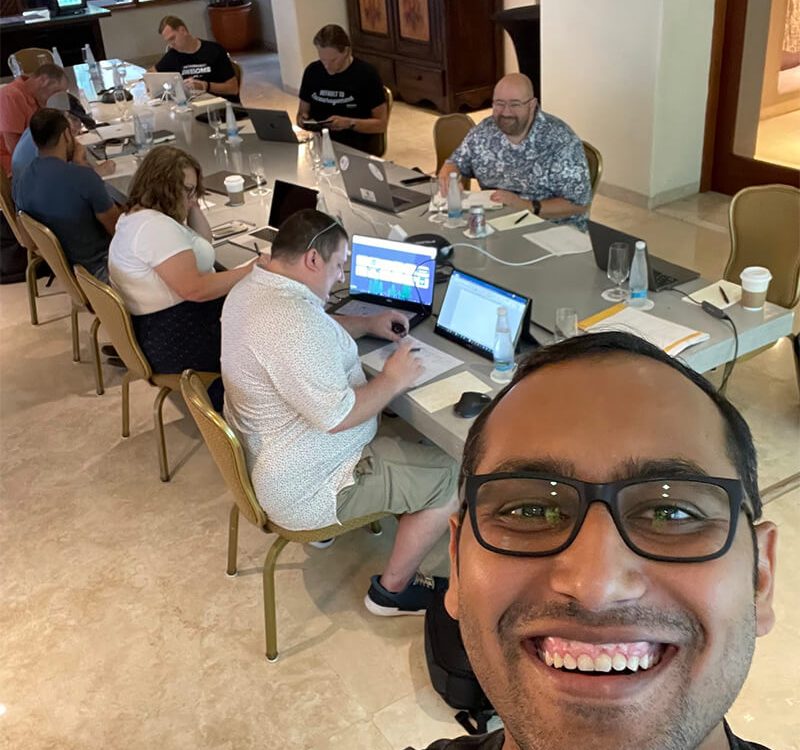 In October, I celebrated my 31st birthday with a trip to Las Vegas. We ate at several great restaurants and saw a lot of magic shows including David Copperfield, Penn & Teller, Shin Lim, and Matt Franco.
Vegas with an almost 5 year old is definitely interesting.
Later in the month, we celebrated Solomon's 5th birthday. Can't believe he's already 5!!!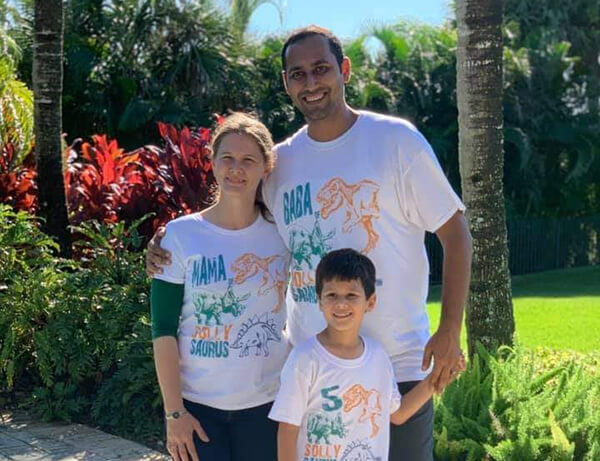 In November, I flew out to Austin to speak at the War Room mastermind. This was my first conference since the beginning of Covid.
Austin has grown a lot, and I was able to connect with several friends including Nathan Barry, Nick Gray, Ramon Van Meer, Ryan Deiss, Richard Linder, Perry Belcher, Roland Frasier, and more.
It was also fun meeting Marcus Lemonis from The Profit.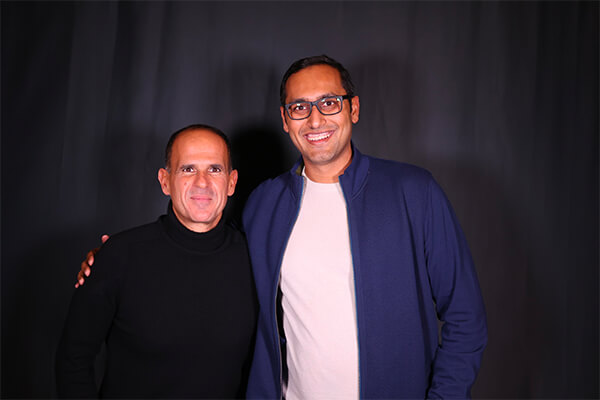 Later in November, I drove down to Miami to hang out with a group of entrepreneur friends, Eric Siu, Neil Patel, Yaniv, David Henzel, and more.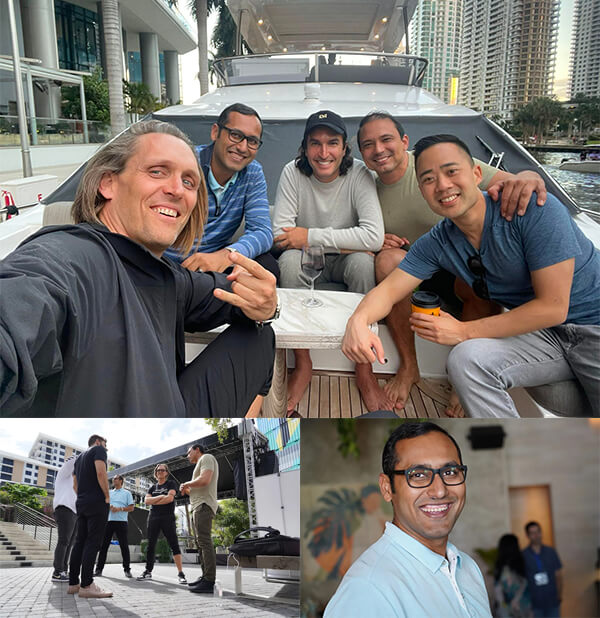 It was also cool to attend Eric & Neil's mastermind event.
In December, we flew to Pakistan to attend one of my cousin's wedding and hang out with family. I also got to hang out with my team members in Pakistan.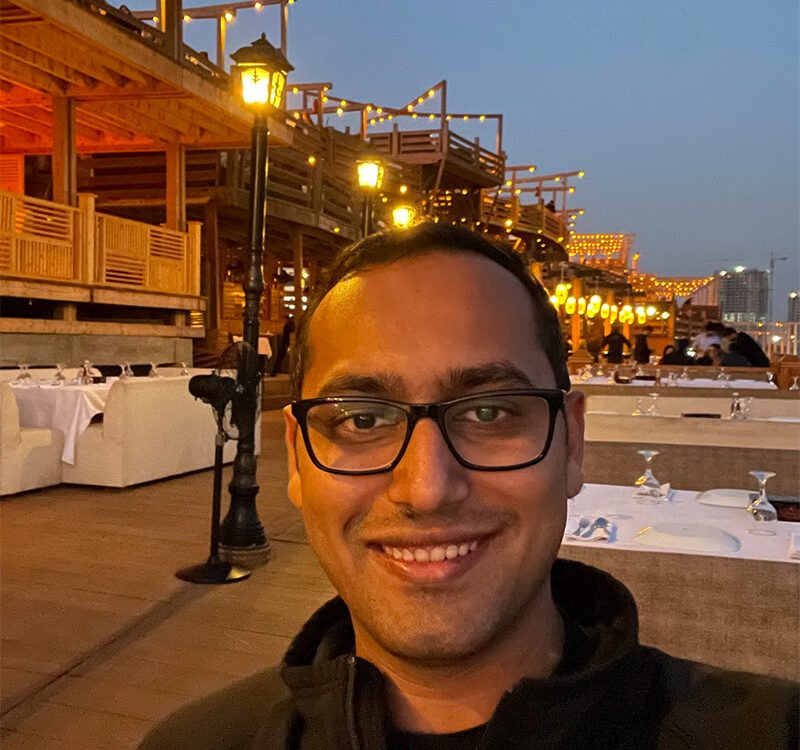 As I write this recap, I realized that I didn't take as many photos as I should have to capture the moments. I'll do better next year.
Business Highlights
2021 was a very productive year for my businesses, we accomplished a lot, and I learned a ton.
I acquired a few companies, made several strategic investments, and all of my existing businesses saw tremendous growth. Collectively our software products are now being used by over 19 million websites (compared to 15 million from last year). That's a growth of over 333,000 new websites every month!
Fun Fact: The Awesome Motive team is fully distributed (remote) with over 200+ team members in 39 countries. Want to join us, we're hiring 🙂
Since I now have over 30+ companies, I will only share notable highlights from a select few.
WPForms
WPForms is the most beginner-friendly WordPress form builder in the market.
This year, we became only the 9th plugin in the history of WordPress to pass the 5 million active installs milestone, and only the second plugin to reach 10,000+ five-star ratings!
Our growth is proof that WPForms is hands down the best online form builder in the market (both WordPress and SaaS).
This year we added over 300+ form templates, a new Square payments integration, Save & Resume addon for secure multi-page forms, dozens of workflow improvements including keyboard shortcuts, automation tools for process automation, and more.
SeedProd
SeedProd is our drag & drop website builder for WordPress used by over 1 million websites.
It started out as a simple coming soon page plugin, but last year we completely revamped it to add a powerful landing page builder that was not just easy … but also FAST.
This year we took another major leap forward, and SeedProd has become a full no-code website builder for WordPress.
Now you can use it to create completely custom WordPress themes using our easy drag & drop interface (no coding needed).
We re-built our custom RafflePress website theme using SeedProd website builder.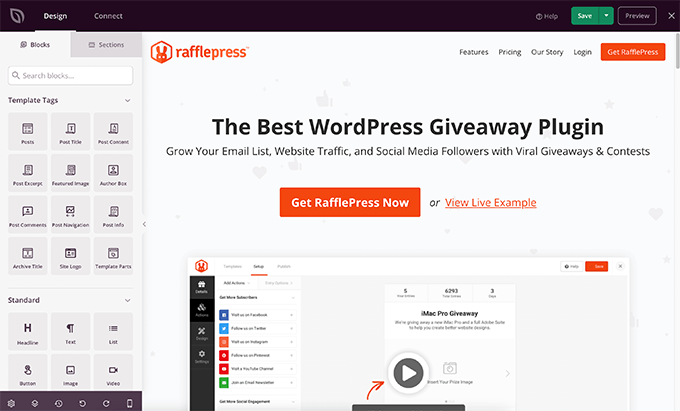 Our team also added content personalization features that allows you to dynamically replace any text on page to offer a more personalized user experience.
SeedProd already comes with over 150+ Pro templates, 2 million stock photos, and every feature you need to quickly build a custom website using WordPress.
2022 is going to be a HUGE year for SeedProd. If you haven't tried it yet, then you probably should take a look 🙂
AIOSEO
AIOSEO is the original all-in-one WordPress SEO plugin that we acquired last year.
I had the team completely revamp it, and this year we passed the 3 million active installs milestone.
We added several really powerful features that no other WordPress SEO plugin has including the most powerful Redirection manager (including full site redirects for easy site migration), an easy headline analyzer to help you boost CTR / improve rankings, a robust WordPress breadcrumbs solution for both SEO & themes, advanced local SEO for WordPress module, HTML + RSS sitemaps, granular schema / priority settings control for SEO professionals, and dozens of other powerful features.
With all the changes we have made, I truly believe that using AIOSEO will give you a competitive advantage and help you get higher SEO rankings in 2022.
This is why all of my businesses have started switching away from Yoast to AIOSEO, including most recently WPBeginner.
I believe our biggest advantage over competitor SEO plugins is that we're actually practitioners. Our content sites get over 100 million pageviews per year, so we are prioritizing items that actually get results!
Not to mention our prices are fair for small businesses, agencies and web pros 🙂
Sometimes it's easy to get complacent with the legacy tools we use in our businesses, but as you go into 2022, I highly recommend giving AIOSEO a try if your goal is to improve your SEO rankings (here's a link to the free version).
WPBeginner
WPBeginner turned 12 years old this year. I love the impact we've made on so many lives through our blog tutorials, videos, and our support / community team.
We launched our new site design, and as part of that I replaced a lot of the legacy tools with newer better tech. I also made few "controversial" design decisions that I believe will help us absolutely crush it in 2022.
It's very likely that some of the design decisions I made will become the new trend that other Pros will adapt, and as it goes will be the "new norm" in a year from now. Here's a quick behind the scenes case study.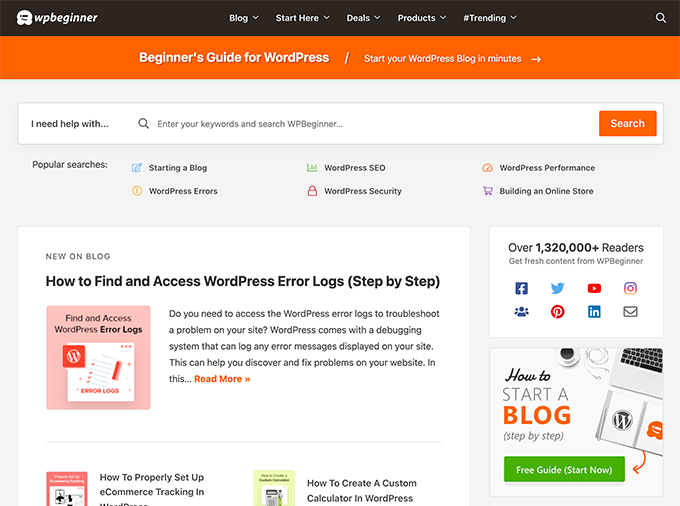 Our WPBeginner Engage Facebook group passed over 80,000 members, and it's the largest Facebook group for WordPress site owners. Our WPBeginner YouTube channel also passed the 260,000 subscriber mark. Both of these were huge team accomplishments.
We also built several helpful tools including an easy migration tool that helps you easily switch from Shopify to WooCommerce, and a comment moderator role plugin that adds proper access control for large sites that want to allow community moderators to be able to moderate comments in WordPress.
MonsterInsights
MonsterInsights is the most popular Google Analytics plugin for WordPress. This year we passed the 3 million active websites milestone.
The biggest news in the Google Analytics world this year was GA v4, and it received mix reactions from marketers. That's because Google removed several important features in the new version that existed in the classic version.
As the largest Google analytics integration plugin in the world, this made it tricky for us to navigate our product updates.
We worked closely with the team at Google to launch our GA4 integration with improved onboarding while also allowing the Dual Tracking mode for our users, so you can take advantage of new GA4 features while also keeping the data points from Universal Analytics that GA4 doesn't yet support.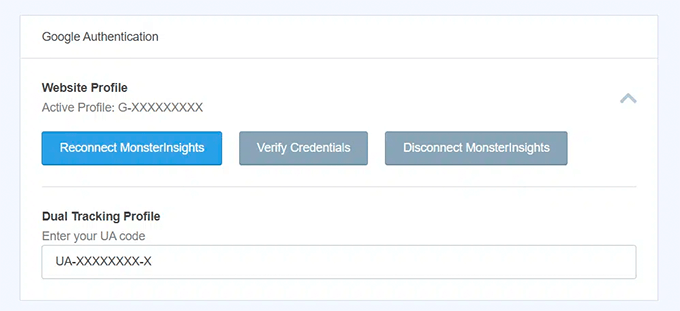 As far as I know, we're the ONLY solution in market that lets you do dual tracking.
We also launched our brand new Media tracking addon that lets you track video engagement inside Google Analytics with just two clicks, a no-code Google Ad conversion tracking for tracking paid ad performance, and integrations with AIOSEO focus keyword tracking, AffiliateWP, EasyAffiliate, and more.
Uncanny Automator
Uncanny Automator is a no-code workflow automation plugin for WordPress. It's basically Zapier for WordPress without the high costs.
I invested in it last year as part of the WPBeginner Growth Fund because I want to make automation more affordable for small business owners.
This year the team made major improvements, so you can now easily connect your WordPress site with 1000+ other business apps to save time, reduce errors, and improve your workflow.
Some of my favorite integrations that the team added this year includes: Google Sheets, Slack, Facebook, Instagram, ActiveCampaign, and HubSpot
Here are few example automation use-cases:
When a user submits my lead form in WPForms, I can automatically add that submission in a centralized Google Sheet or in my CRM like HubSpot, and then I can also have a notification sent in our Slack channel for my sales team. All of this for a fixed low-annual cost without paying a "toll usage fee" that Zapier charges.
When I publish a new blog post, I can automatically share that post on my Facebook and Instagram profiles without any third-party SaaS service.
When a user buys an all-access master membership plan, I can automatically create their profile on all of my other WordPress membership sites to keep their profile in sync. This is the level of no-code workflow automation no other SaaS service can offer.
I'm always amazed at how far no-code technology has come because it truly levels the playing field and help small businesses grow & compete with the big guys.
I'm also super proud that we're leading the way in helping WordPress continue to dominate as the no-code web platform of choice for millions of small business owners.
I feel like I'm not doing justice to the Uncanny Automator team by stopping at just a few paragraphs. Seriously check out this plugin because it will save you a lot of time and money!
Other Notable Product Highlights
Want to work on products that are used by over 19 million websites? We're hiring! See the open positions and please apply using the specified method.
Acquisitions & Investments
This year, I made a few big acquisitions in the WordPress space, and I also took investment stakes in a wide-range of other companies.
Easy Digital Downloads, WP Simple Pay, AffiliateWP, and more!
Unlike my previous investments, this was an acquisition of a large portfolio of plugins from Sandhills Development, so I'll give a quick overview of what each of them do.
Easy Digital Downloads makes it easy for you to sell digital products online such as eBooks, digital art, premium software, and just about any type of digital file.
We use EDD to manage and sell our popular premium plugins because it makes it easy for us to collect recurring subscription payments on our website, manage software licensing, protect premium file access (so only members can access it), and more.
AffiliateWP is the leading affiliate management software for WooCommerce, Easy Digital Downloads, MemberPress, and other popular WordPress platforms. Simply put, it makes it easy for you to launch an affiliate program for your online store.
WP Simple Pay is a popular Stripe payment plugin that makes it easy for you to accept one-time or recurring payments on your website without setting up a shopping cart. It comes with a payment form builder and all the tools for you to securely accept payments on your site.
Sugar Calendar is a simple events calendar plugin for WordPress. It makes it easy to do event management, ticketing, and everything you need to manage / run an event. It also seamlessly integrates with WooCommerce, Stripe, and other solutions so you can sell event tickets and accept payments on your site.
Aside from that, as part of this deal, we also acquired several free open source plugins such as the popular Transients Manager plugin that's very helpful in debugging WordPress errors.
This deal was very special for me because it was another one of those coming full-circle moments of my career.
In 2013, when I launched OptinMonster, I needed a solution that made it easy for me to sell the premium plugin (digital download), restrict access & updates to only paying members, and most importantly accept recurring payments.
We ended up using Easy Digital Downloads because it helped us do all of that and more.
As we built more premium plugins like MonsterInsights, WPForms, etc they all used EDD.
Even the popular WordPress plugins I later acquired or invested in through the WPBeginner Growth Fund all used EDD and AffiliateWP to power their eCommerce and affiliate programs.
I can easily say that after WordPress, Easy Digital Downloads has the single biggest impact on my online success, and I'm truly honored to have the opportunity to pay it forward by serving over 100,000+ users who trust our eCommerce products to grow their online business.
SearchWP
SearchWP is an on-site search solution that makes it easy for your website visitors to search everything by relevance, so they can quickly find what they're looking for.
Unlike the default WordPress search, SearchWP goes beyond just the post content and indexes everything on your site including custom fields, ACF fields, text files, PDF document content, custom tables, custom taxonomies, WooCommerce product attributes, and more.
It gives you the flexibility to create your own relevance scale and adjust the algorithm without writing any code.
Simply put, SearchWP democratizes content discoverability for small businesses.
Existing solutions like Elastic Search, Algolia, etc are just way too expensive, and require significant technical background to implement.
SearchWP is already the best WordPress search plugin, but in 2022 we will make it even more beginner-friendly for new users to get started.
Other Investments
I didn't make any new real estate investments because I feel the market continues to remain extremely high.
As I mentioned last year, I invested in several entrepreneur-led funds. I was excited to hear that Tiny Capital, one of the funds I invested in last year, acquired AeroPress. This is my favorite travel Espresso maker that I've been using for years, so it's kinda cool that now I'm an investor.
My investment in SureSwift Capital has done well as Kevin and team acquired LeadDyno (affiliate management software), and a suite of other Shopify / SaaS apps.
I also invested in ConvertKit, a popular email marketing company, because I really love what Nathan Barry is building and his commitment to helping creators succeed.
I invested in another entrepreneur-led fund called Vibe Capital. It's created by Anukur Nagpal, founder of Teachable. I have met Ankur several times in the past and really like his energy. Excited to see where this goes.
Towards the end of the year, I had the opportunity to invest alongside Mohnish Pabrai in his original Pabrai Funds. I have learnt a LOT from following Mohnish, watching dozens of video interviews on YouTube, and reading his books The Dhandho Investor and Mosaic (hard to find these days in hard copy). So this deal was an absolute no-brainer.
One of the things that I really like about these investment funds is that they follow the Warren Buffett partnership structure. That's probably because Mohnish, Andrew, Chris, and I are all Berkshire Nerds.
Basically unlike the traditional private equity / hedge funds, these funds have 0% management fee. The fund's general partner invests their own capital (close to 20% of the total fund amount), so they have skin in the game and really believe in their strategy. The fund manager is rewarded a profit percentage (a.k.a carry) only after they beat an annual return of 6% or 8% (hurdle), so the incentives are properly aligned.
After early success, a lot of young entrepreneurs start investing their money in various Angel List funds, mutual funds, and sometimes private equity fund. It's really important that you pay attention to the fee structure because that can significantly hurt your overall returns.
Often Private bankers and wealth managers will try to present you with complex investment strategies that have multiple layers of fees blended in, so you need to pay attention to those. My general rule of thumb is: Don't invest in things that you don't fully understand.
Aside from the above deals, I made several other investments that I cannot disclose this year due to a variety of reasons. And before you ask, they are NOT in the crypto space.
Want me to invest in your company? Send me an email from my WPBeginner Growth Fund page.
Lessons Learned
Like every year, I learned a lot in 2021 through reading books, talking with other entrepreneurs, and through trial-and-error. Below are some of the most important lessons in no particular order:
Finding other peoples' flaws is a seductive trap
I always find it interesting that certain competitors of mine have the time to criticize us / me on Twitter for one stupid reason or another. I generally ignore the trash talking because their claims are entirely baseless, and it's better to take the high road.
Earlier in the year, a friend of mine forwarded me a screenshot of some private trash-talking from a WordPress community member where this person fell as low as involving my mom in the conversation.
I was deeply saddened for a lot of reasons. The WordPress world is small, and I have been a part of this community for the last 15 years. Not to mention, I had known this person for over 10+ years. Seeing this level of toxicity was disheartening.
Here's my response to all the haters.
Anyways, around the similar time, I came across this great article by Morgan Housel titled "Dangerous Feelings" where he shared 3 dangerous feelings where one of them was finding other peoples' flaws more than you look for your own improvements.
It's a seductive trap because pointing out flaws is so much easier and more convincing than finding the obscure force that will make something work.
Note to future self: If you ever feel like trash-talking competitors, don't fall into the trap. Instead pay attention to all the things that they're doing right, and focus on doing them better. Your time will be better spent.
Social media can be toxic at times. Here's a good general rule for happier interactions.
The second part of the tweet is a good thought exercise for self-reflection as well.
I would like to understand better … is the cheat code phrase
I learnt this communication technique early on in my career, and it was truly a game changer.
It helped me overcome the fear of asking questions, get access to secret insider knowledge, become a better communicator, and avoid burning bridges / losing trust.
During a mentoring call, one of the founders asked me what's the single best tactic that I learnt when it comes to personal growth, so I shared this high-impact technique with him and also decided to include it in my internal company newsletter.
This was extremely well-received by the entire team. I won't share the entire internal newsletter here, but here's a quick summary.
I truly believe that asking questions is one of the fastest ways to get better, but a lot of us are afraid to ask questions, especially in a group environment.
When we start the question with the phrasing: "I would like to understand better …", we cognitively reframe the situation by adding a clear benefit that aligns the incentives.
For you, the incentive is that you want to learn more / understand better, so this makes it ok to ask the question.
For the presenter / speaker, their ultimate goal is to help us understand better … so this also makes them more comfortable.
I have actually seen several super smart entrepreneurs using a variation of this phrase in group environment to ask questions: "can we double tap on that…" or "can we dig deeper on X topic".
This gets really powerful when used correctly in almost all situations.
It can help avoid miscommunication and burning bridges in tense conversations. Instead of jumping to conclusion … you can use the cheat code phrase "I'd like to understand better …".
This phrase gives us the permission to assume the best of intentions and always give others the benefit of the doubt.
You can use the phrase to ask deeper questions and get access to secret "insider" knowledge.
Of course if you want full access to this internal newsletter and others that I regularly send to our team, we're hiring 🙂
You can only work as hard as your ability to recover
The lesson above is actually a quote from Tom Brady. It was quite inspiring to see Tom Brady win a super bowl at age 43.
Both Brady and Lebron are doing things that were previously unimaginable. They've been so good for such a long time in their careers.
Aside from their competitive nature, crazy work ethic, and insane skills, the one thing that stands out for their longevity is how well they take care of their body.
I always used to joke with Amanda that entrepreneurs are like professional athletes. Instead of scoring basketball points or touchdowns, I type words 🙂
But I think it's very true. There are a lot of similarities between entrepreneurs and professional athletes.
To be at the top of our game, we must take care of both our mental and physical health.
Earlier this year, I switched to a functional medicine doctor who helped me adjust my nutrition and several other lifestyle choices. She helped me identify that if I'm to sustain this level of energy & growth for a long period of time, then I must add recovery time to my routine.
Not sure why I didn't realize this fully, but I've been doing this "tech stuff" since I was 12 … that's 19 years … and full-time for at least the last 16 years. For me this is fun, and I want to be able to continue doing this till I'm in my 90s like Warren and Charlie.
Anyways, aside from a personal trainer and daily walks, I also added a rotation of massage therapist, acupuncture, and floatation therapy (sensory deprivation) to my physical and mental health routine.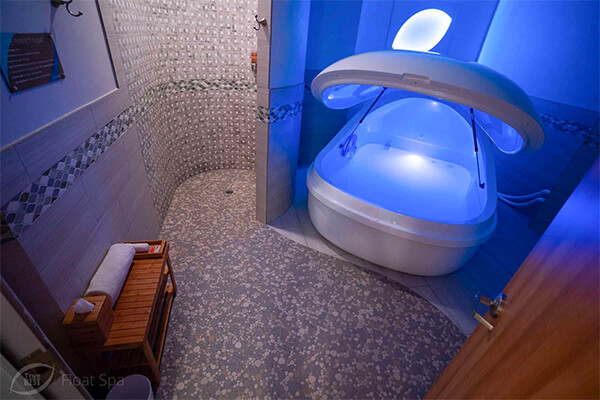 If you haven't tried float spa, I highly recommend doing it at least once. Near my house, there's a local franchise for TrueRest. I found a Groupon to give it a try, and it was an amazing experience.
To ensure it wasn't a fad, I decided to try it few more times, and it truly makes a huge difference in reducing stress and boosting creativity. For me, if I do a float session on Sunday, the mental relaxation effect lasts all the way till Wednesday. I bought a membership and have been floating for the last 6 months now.
I have also taken several friends with me, and they all love it. The key is to fully experience it … i.e no lights, no sound, etc. It's a sensory deprivation tank.
If you're afraid of the dark or being in a confined space, then it's best that you not try this. While they give you the option to keep the pod open or keep the lights on … it's not worth it.
Pro tip: The rounder pods (not in picture above) are much better because they're bigger. At our local franchise, if you request the even hour slots, then you get the bigger pods.
The main lesson I really want to share with all my entrepreneur friends reading this is that you need to build in recovery time and really take care of your mental & physical well-being.
Other Lessons from 2021
Since this post is getting quite long, I'll just make a short bullet list. Although unlikely, I may share more about these in details at another time:
It's not who you are that holds you back. It's who you think you're not.
Internal Benchmarks > External Benchmarks. The only person we're competing against is ourselves from yesterday. This lesson is essential for happiness.
Work hard consistently. Remember Inputs → Outputs.
Past performance increases confidence more than ability. Be bold … but not reckless.
Most people cannot comprehend very large or very small numbers (including me at times). It's important to stop and think deeper on what numbers really mean.
Doing it right is definitely hard. But doing it over is always harder.
Greatest enemy of a good plan is a dream of a perfect plan. Don't wait, keep on moving forward … slow & steady wins.
Small changes compounded for long periods of time is pretty much like magic.
Cognitive reframing is a MUST HAVE skill for all entrepreneurs.
Whether you think you can, or you think you can't … you're right.
Favorite Books that I Read in 2021
I'm a very slow reader. Maybe it's because English is my second language, or maybe it's because I often re-read and pause after pages to really reflect and understand what's being said.
Several blog readers have asked me to share what were some of my favorite books this year. So here are my top six that I read this year:
When it comes to reading, I prefer the hard copy.
However I did use Audible for Ready Player Two because it's narrated by Will Wheaton. I also listened to Richer Wiser Happier on Audible during my daily walk.
Although I did end up getting two hard copies of Richer Wiser Happier as a gift, one from Guy Spier and another from Mohnish Pabrai. This should tell you that it's a must read 🙂
Aside from the books, I read a ton of articles and twitter threads. Here are five that I encourage you to check out:
My Goals for 2022
I'm not going to list out product-specific goals because each one of them have fairly elaborate roadmaps.
My personal goals for 2022 are:
Be more invisible and continue to maintain a low profile
Have even more unscheduled time in my calendar
Continue doing monthly trips
Continue deep thinking time
Focus on internal benchmarks (avoid the temptation of external benchmarks)
Find more boring / unsexy ideas that deliver exceptional results
Take more photos – I realized that I didn't do a good job this year
Despite all the challenges of 2021, I am truly blessed to be able to do what I love every day.
Here's to an even better 2022!
In the meantime, enjoy more pics from 2021. I had to borrow several from Amanda's phone and others.