2020 has finally come to an end. If I had one word to describe this year, it would be unprecedented.
This year felt like the longest year of my life.
Since so many things happened, I didn't get a chance to document it all in one place. This is why I do a yearly recap each year (2019 | 2018 | 2017 | 2016 | 2015), so I can keep a diary for myself to reflect on as I get older.
I have also been told by many friends, family members, and readers that they love my year end recaps, so that is just double motivation for me to write this blog post.
Plus, I think it's going to be helpful for Solomon as well.
Let's take a look back at everything that happened this year (caution: it's very long).
TLDR: I turned 30, bought multiple companies, hit a mental burnout, nearly lost $1.4 million dollars in a fraud case (recovered $1.3M so far), and I am closing the year stronger than ever.
Here's a table of content in case you want to jump to specific sections:
Personal Highlights
This year, I turned 30 years old, and I really wanted to make it a memorable year. Well, sometimes you gotta be careful of what you wish for.
I think it's fair to say that 2020 is one for the history books.
This year taught me many lessons that I'll share later in the article, but above all it reminded me to truly appreciate and be grateful for all that I'm blessed with: an amazing wife (Amanda), beautiful kiddo (Solomon), loving parents & extended family, great friends, supportive team members, financial stability, and good health.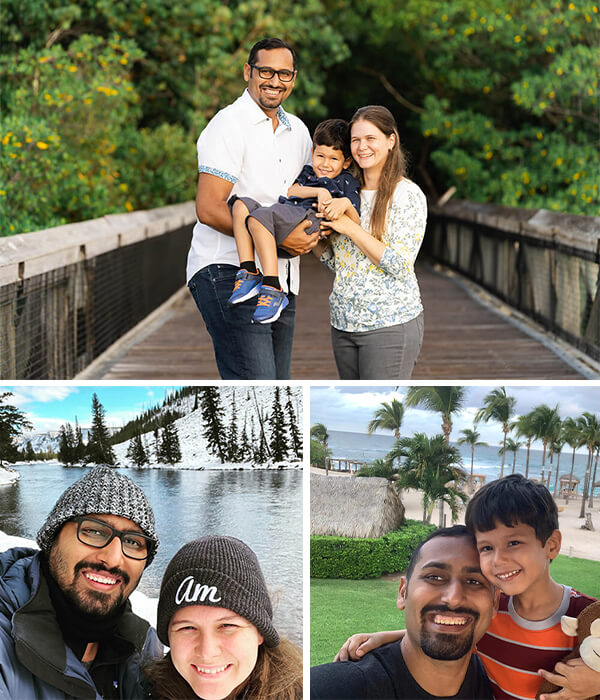 We started the year with a trip to Punta Mita, Mexico (same spot as 2018 and 2019). It was for a business mastermind that I'm part of, but a lot of my entrepreneur friends also bring their families.
The Four Seasons property is beautiful. My co-founder in WPForms, Jared Atchison, also joined us on the trip along with his family.
As always, it was a great time hanging out with other entrepreneurs, sharing our wins / lessons, and of course enjoying the beautiful location.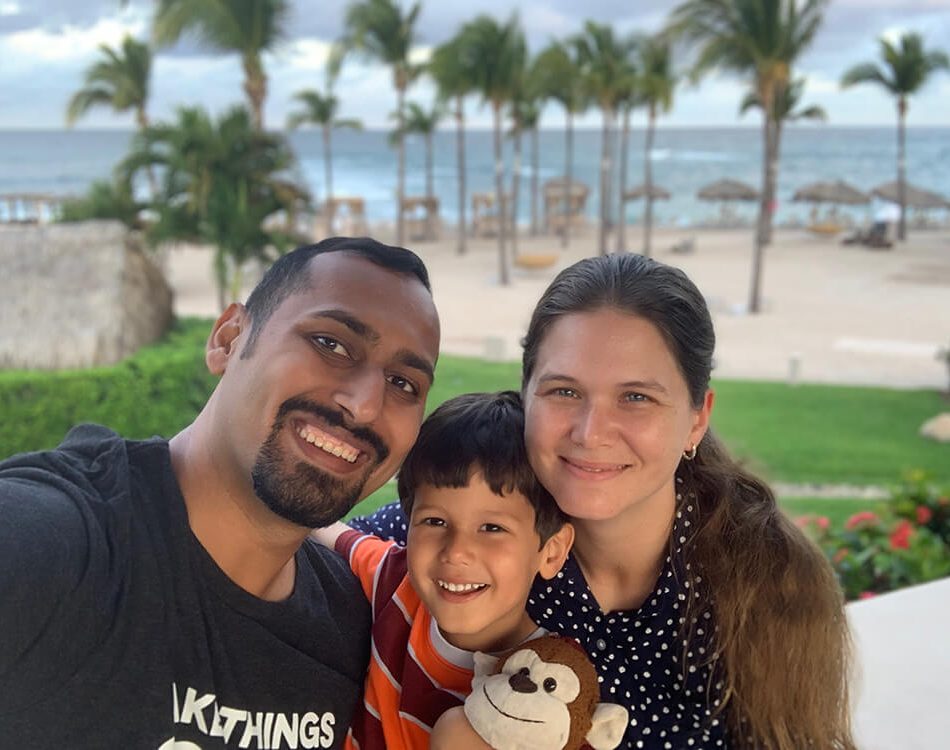 In February, I did a quick trip to Atlanta for another business event, and then the news of COVID started coming out.
I had a trip planned for Thailand to attend the first-ever WordCamp Asia, but I ended up cancelling that. Shortly after, the event was cancelled too for safety reasons.
Beginning of March, we had my growth fund company mastermind in Orlando. During this week, all the COVID lockdowns started to happen.
One of the founders had to leave early to go back to Australia, so he didn't get stuck in US.
The stock market started crashing this same week, and the whole world started going in a frenzy.
COVID lockdown and restrictions completely changed our travel plans for the rest of the year.
Like everyone else, we were stuck at home. This allowed me to spend more time with family which was awesome.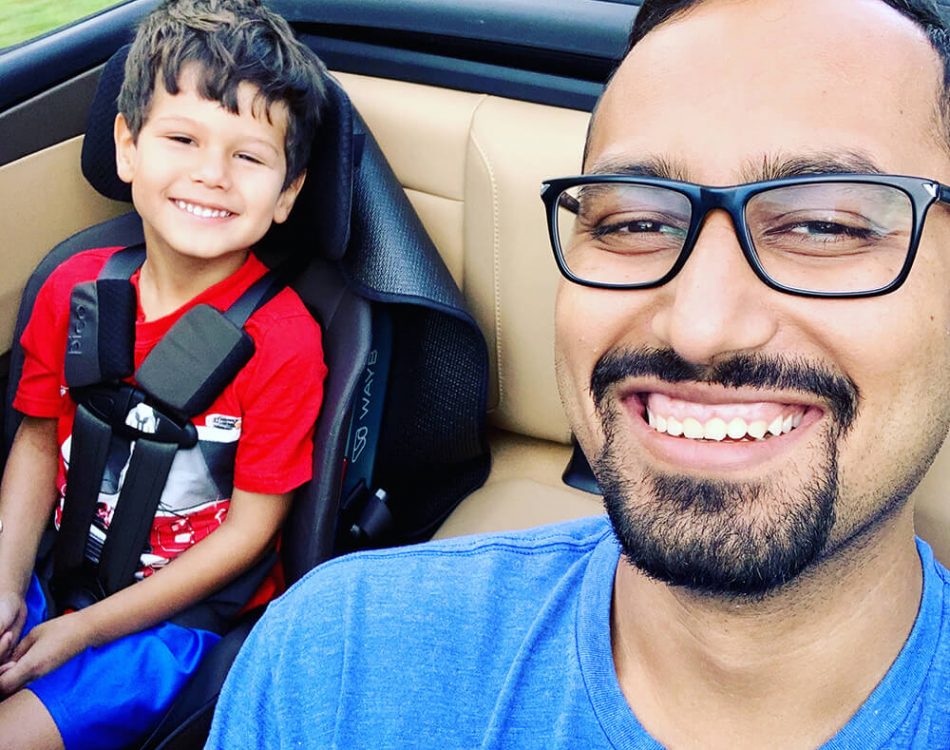 However, the lack of planned travel and activities negatively impacted my daily routines. I had extra time on hand, so I started working more hours.
For me, work is my hobby, addiction, and often a coping mechanism. With all the craziness in the world, I found work to be really rewarding. Not to mention, we were lucky to be in an industry that was seeing a lot of growth.
Well, those extra hours started turning into late nights and super early mornings (very much like the old university days).
One after another, the bad habits started compounding. I started drinking more coffee and eating more junk food which led to bad sleep which led to less exercise motivation which led to significant weight gain and before I knew it, I was in a downward spiral heading towards a mental burnout.
By June, I got pretty close to a full burnout.
Lucky for me, my wife is a clinical psychologist, and we've been together since high school days. She saw those patterns and helped correct the course.
We had a discussion and came to the conclusion that I cannot take care of myself without her lol.
No but seriously, we realized how much of an impact travel & activities had on my mental well-being. So we started to look at how can we travel safely in COVID times.
Since Florida is a huge state with great weather, we decided to take a road trip and rented a beach house in Destin, FL (about 8 hour drive away from Palm Beach).
This change of scenery and pace was very helpful. My co-founder, Jared and his family drove from Texas to meet us, and we used this time to do some quarterly planning for WPForms.
My close friend and MonsterInsights co-founder, Chris Christoff, drove up with us as well along with my brother (Zain), and my sister (Sameen).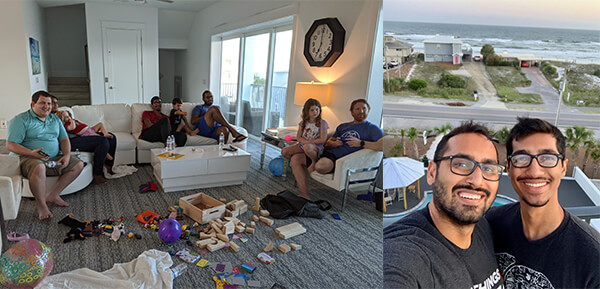 The road trip travel idea turned out great, and we all felt safe with this way of travel. The only thing was I still ended up working a lot more than I had hoped. While I felt a bit relaxed from the change of scenery, the burnout was still lingering.
So in the month of July, we decided to do another trip in FL by renting a beach house on Anna Maria Island. Except this time, I only worked half days. My parents joined us on this trip, and they really enjoyed being able to get out of the house.
This trip in July was very good and the break was just what I needed to get over the hump.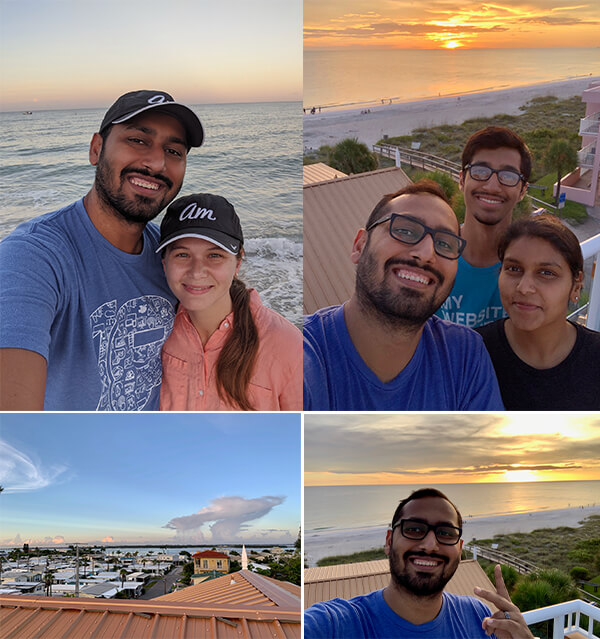 Since the road trips were working well, we planned another remote work trip in the month of August to St. Augustine, FL.
We got a nice beach house and spent the week there. Chris and my brother Zain joined us for the trip as well. We also got to hang out with my college roommate and best friend, David Pegg and his wife Jesse.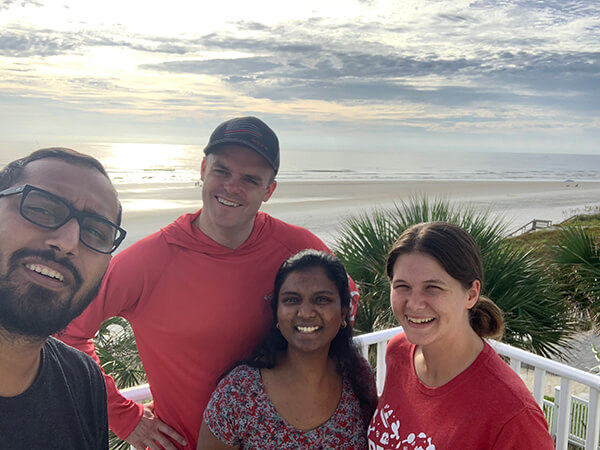 I had planned our bi-annual growth fund company meetup in September, but since COVID travel restrictions were still in place, we couldn't do the meetup in person.
This meant that I had an empty giant mansion in Orlando that we had rented for those dates. So we decided to drive up to Orlando with my brother & sister. Chris and Keri (friend) also joined us.
I led the growth fund meetup virtually over Zoom, and it actually turned out pretty good.
This trip was just working remotely from a different house since we couldn't cancel the reservation. Didn't take many pictures, sorry 🙁
October was my big 30th birthday month, and we were going to be stuck at home. I didn't feel comfortable getting on a commercial plane, and we had already done several road trips.
Not to mention, we were in the middle of acquiring PushEngage (more on this later).
However through a pretty cool set of circumstances and connections, I was able to get a private plane to take us to Jackson Hole, Wyoming.
Of course, I decided to turn this trip into a workation. I knew that Jared wanted to spend some time on WPForms 2021 planning, and Chris wanted to do the same for MonsterInsights. Since Chris lives near me in Palm Beach, he was able to join us on the flight.
We made a quick detour to pick up Jared and family from a tiny little private airport in Victoria, TX, and then flew to Jackson Hole where we spent two weeks.
Btw, the Jackson Hole airport is absolutely gorgeous!!!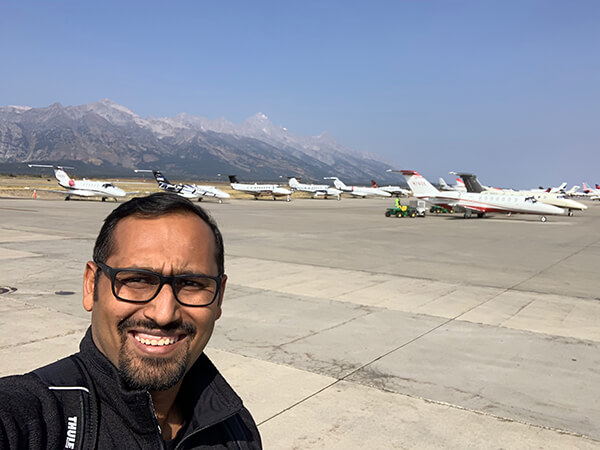 Since we were there during shoulder season, the town and the national parks were pretty empty which was great for us.
We spent the weekdays product planning, and the weekends exploring Grand Teton National Park, and Yellowstone National park.
We also did daily hikes around our house and the trails nearby.
Overall, I'd say this trip turned out to be over the top awesome especially because I had already made peace with being stuck at home for my 30th birthday.
Here are some photos from the trip: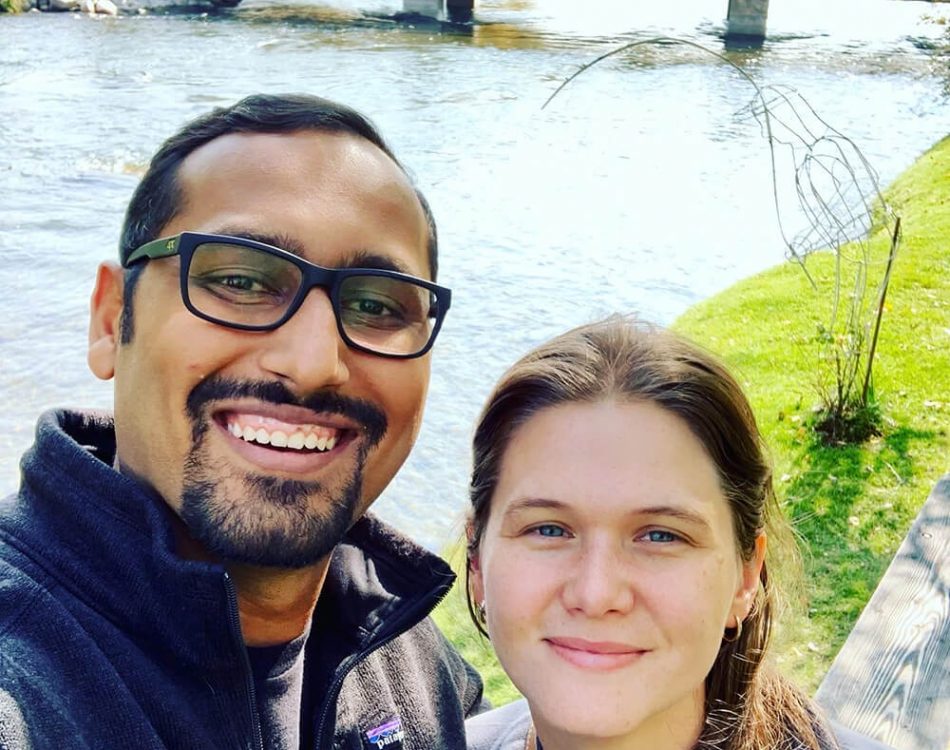 November is always a crazy month for us due to all the Black Friday / Cyber Monday deals. Not to mention, we were still in the onboarding / transition phase for PushEngage, so I was just heads down busy.
In December, once all the sale madness was over, I used the same contact to take my parents on a private flight to the coldest weather they've ever been to: Big Sky, Montana.
We spent two weeks on a Mountain Lodge near the Ski resort. Since it's early season, there aren't a lot of people on the slopes.
This was Solomon's first time skiing. He was surprisingly good and didn't want to slow down.
Being out here in a remote place with great views of the nature is the perfect way to end the year. I did a lot of personal and business goal setting / planning here for 2021.
Here are some photos from our Montana trip: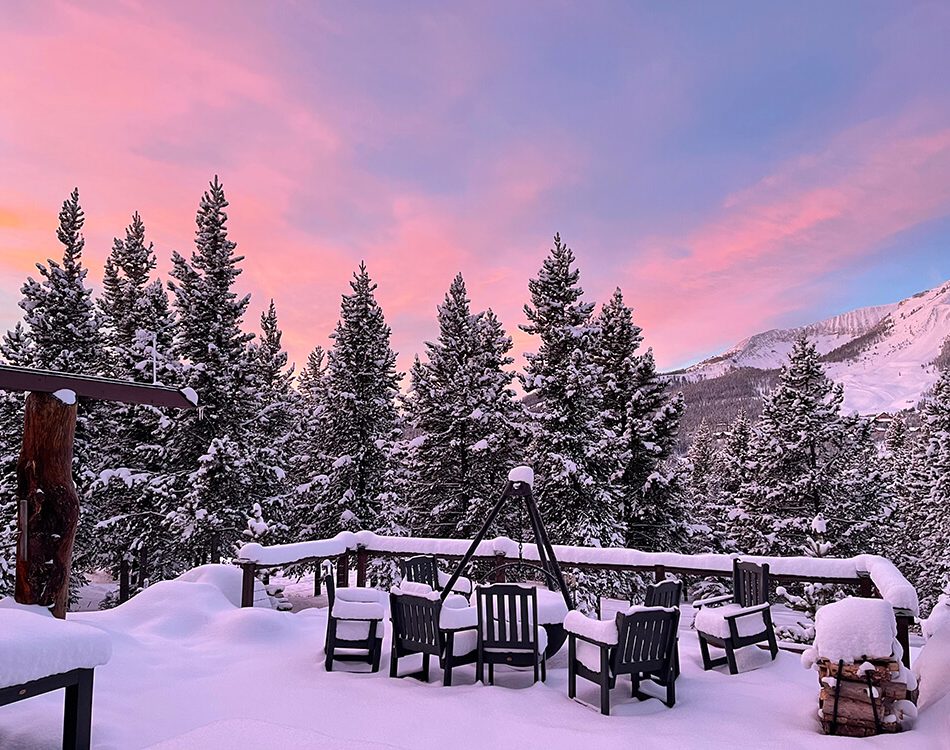 As I look back, I feel truly blessed to be able to do all that we did this year despite the craziness happening all around us.
Maybe it's me hitting 30s and getting wiser all of the sudden, or it's the unprecedented events of 2020, but I have learnt to practice gratitude every day.
It's a great exercise that I highly recommend. Practicing gratitude has incredible effects on improving mental health, relationships, and happiness. Not to mention, it's great for reducing stress too!
Business Highlights
2020 turned out to be another successful year for us in business. Although the uncertainty of the first week of COVID lockdown was crazy because we saw a small drop in sales. However, we rebounded well similar to many other tech companies.
This year, we revamped three of our products, acquired several companies, invested in few more, and our existing businesses saw a lot of growth as well. Collectively our software products are now being used by over 15 million websites.
Fun Fact: The Awesome Motive team is fully distributed (remote) with over 140+ team members in 27 countries. That's roughly 106,000 websites per AM team member. We're a small team, but I'm proud of the impact we're making. Want to join us, we're hiring 🙂
Since I have multiple companies, I'm going to break up the highlights by each business.
OptinMonster
OptinMonster is the best conversion optimization toolkit to help you get more subscribers & sales, so you can make more money from your existing website traffic.
It's one of our flagship brands that's well-known across multiple industries. Each month, we help optimize billions of sessions for our customers, so they can turn their website traffic into subscribers, leads, and sales.
In 2018, I stepped out of the day to day of OptinMonster to focus on the overall strategy of Awesome Motive. However since my co-founder, Thomas Griffin, had a new addition to his family, I stepped in to fill the gaps while he was on paternity leave end of Q1.
It was a lot of fun to get involved in the day to day again.
I worked with the team to completely revamp our WordPress plugin to offer a more native user experience.
This was a HUGE project, and I'm really proud of the work our team did. Basically, the new plugin update makes it easy for WordPress users to create, manage, and publish all OptinMonster campaigns right inside WordPress.
As part of this update, we also added a limited free plan which is only available for our WordPress plugin users. So far it seems to be working really well.
We also launched TruLead, our smart lead verification technology that automatically filters out bad leads like spambots, temporary email addresses, and other markers of unqualified email submissions. This helps you save money on your email marketing costs, improves your deliverability and sender reputation, so you have maximum reach.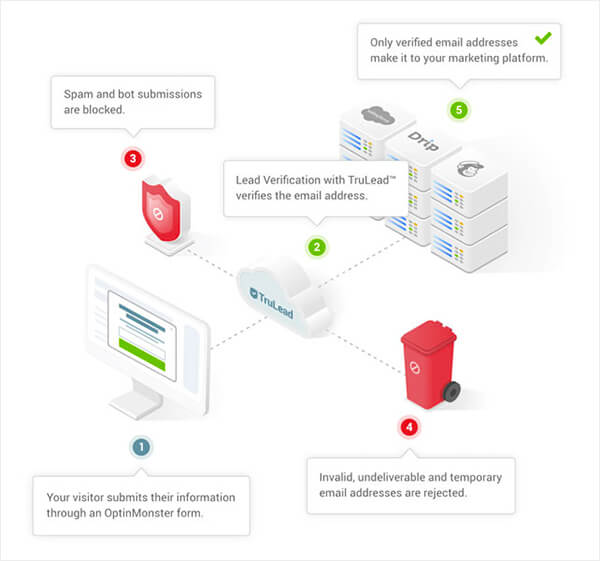 Aside from that, we also added a lot of new improvements such as a brand new Publish Screen, significantly improved personalization & targeting workflow, inline editing support, improve webhooks integration, Google reCAPTCHA for forms, ability to switch campaign types, signature mobile exit-intent technology, and tons of new campaign templates.
Our team also made major performance breakthroughs which made OptinMonster 98% faster for sites with a lot of campaigns. This was a BIG win for our customers because of the upcoming Google Web Vitals update, but in the process it also helped us significantly reduce our bandwidth costs.
We're working on some really neat features like Custom Domains that will be coming out in 2021. This will let you bypass adblock and unlock further performance improvements. We're already using this feature on several of our sites and with some enterprise customers.
Overall 2020 ended very strong for OptinMonster. We had to make some big changes and hard decisions to ensure the longterm growth of the company, but I feel we have a lot of momentum behind us, and I'm really excited for 2021.
WPForms
WPForms is the most beginner-friendly WordPress form builder in the market.
This year, WPForms passed 4 million active installs, and it is now in the top 10 most popular WordPress plugins of all time. (To put in perspective, in 2019 WPForms had only passed 3 million installs).
We continued to maintain our 4.9 out of 5 star rating average with over 7700+ five-star ratings. Reading WPForms user reviews gives me a new level of energy every time.
Our growth is proof that WPForms is hands down the best WordPress form builder in the market, and I truly believe it can go toe to toe with all major SaaS form players.
This year we expanded our integration ecosystem by making it easy for our users to connect WPForms with Salesforce, ActiveCampaign, Sendinblue, Authorize.net (payments), WP Activity Log (security), WPML (multilingual sites), and page builders like Divi and Elementor.
Furthermore, we launched our Webhooks addon to make it easier for our customers to connect WPForms with just about any platform that has a webhooks API. This is in addition to our extremely popular Zapier addon that makes it easy to connect WPForms with over 2000+ other services.
Fun fact: WPForms was Zapier's 6th fastest growing app in 2020 alongside Facebook, Zoom, and Webflow. We've made this list 3 years in a row now.
Due to our fast growth, we prioritized improving our anti-spam solution by replacing our old Honeypot technology with the new WPForms Anti-Spam protection technology. Along with that, we also added an integration for hCaptcha, so users now have a privacy-friendly alternative to Google's reCAPTCHA.
Right before the Black Friday sale season, WPForms team built one of my favorite addons, User Journey. This lets you see all the pages a user visits before they submit your lead form. This insight is great for improving your overall conversions. Combine this with our conversational forms, form landing pages, and form abandonment addon, and you have one of the most powerful form toolkits to grow your business!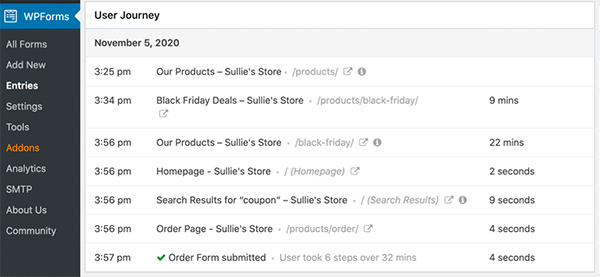 Aside from that, we also added many other improvements such as access / permission control for large teams, entry editing, modern dropdown fields with multi-select option, word count limit for fields, email allow & block list, limit date and time fields for appointments, a much improved WPForms onboarding challenge, and a super helpful help screen in the builder.
WPForms plugin is now translated in 20 languages, and we're continuously working to expand our translations to make WPForms more accessible to other global markets.
As I mentioned in my last year's update that I fully stepped out of WPForms, so I'm really proud of all what the team has accomplished this year. A lot of the credit goes to my co-founder and friend, Jared Atchison, for his amazing leadership.
I'm really looking forward to all the new features WPForms team is working on launching in 2021. It's going to be AWESOME!
P.S. Their team did a cool year in review page that you can check out as well for more details.
WP Mail SMTP
WP Mail SMTP is the #1 email deliverability plugin for WordPress, used by over 2 million websites.
This plugin is part of WPForms division, and we acquired it two years ago to help fix the larger email deliverability issues in WordPress.
Last year, we finally released a Pro version which has been a huge success. Overall, this plugin has continued to grow in popularity, and now it's in the top 20 most popular WordPress plugins of all time.
This year, we added several SMTP mailer integrations based on user requests such as Zoho and SMTP.com. We also greatly improved our Email Logs by adding an easy to use search feature.
Aside from that, we updated various other 3rd-party integrations to make it easier for users to connect such as Amazon SES, Gmail, etc. We also improved our error resolution interface to make it easy for beginner users.
MonsterInsights
MonsterInsights is the most popular Google Analytics plugin for WordPress. It is currently being used on over 2 million websites, and it's also in the top 15 WordPress plugins of all time.
This year we added several useful features to further cement MonsterInsight's place as the #1 analytics plugin for WordPress.
We added a powerful headline analyzer right inside the WordPress content editor, so you can optimize your headlines to get a better click through rate (great for both SEO and social media). If you're using the plugin, then you should already have access. If not, then you can try the web version of headline analyzer.
The other feature that I'm really proud of is our Popular Posts addon. This lets you display inline popular posts, or a popular posts list widget to boost your pageviews. Furthermore, you can also use it to display popular products in your eCommerce store product pages to increase revenue per session. See how it works.
Other notable features that we added included: a brand new site speed report for web vitals, weekly email summaries with tips, ability to export reports in PDF for sharing with clients, clean custom tracking URLs with PrettyLinks, new multisite network setup wizard, improved Google optimize integration, and more.
Last but not least, we also added Contextual Insights into the plugin to help you make better data-driven decisions.
2021 is going to be an exciting year for MonsterInsights because we're working closely with a team at Google to add GA v4 support as well as do a gtag.js migration both of which are coming very soon.
SeedProd
SeedProd is now a fully revamped drag & drop landing page builder for WordPress (that's both easy to use & FAST).
For those who don't know, SeedProd joined Awesome Motive in late 2018, and at the time it was the #1 coming soon and maintenance mode plugin for WordPress with a lot of addons.
Amongst them, the most popular addon was landing pages.
Even though SeedProd didn't have a drag & drop page builder, our customers were still using our landing page module to build custom pages because SeedProd had something other leading page builders didn't: Speed!
The WordPress page builder market is huge with players like Elementor, Divi, Beaver Builder, Visual Composer, Brizy, Oxygen, etc.
The problem with just about every single provider was they will slow down your site.
And as we know, speed is important for both SEO and conversions.
When I looked at the landscape for building landing pages in WordPress even for our own internal use, I found myself leaning towards SaaS players like Unbounce, Hubspot, Instapage, etc.
So I wrote down few important factors that were missing in WordPress page builders that I wanted: fast loading landing pages, complete design freedom so my landing pages aren't tied to my WordPress theme, and the ability to have design systems for our marketing team.
These three things became the fundamentals in our decision to revamp SeedProd into the best landing page builder in the market.
We launched the new version in October, and it's been very well received.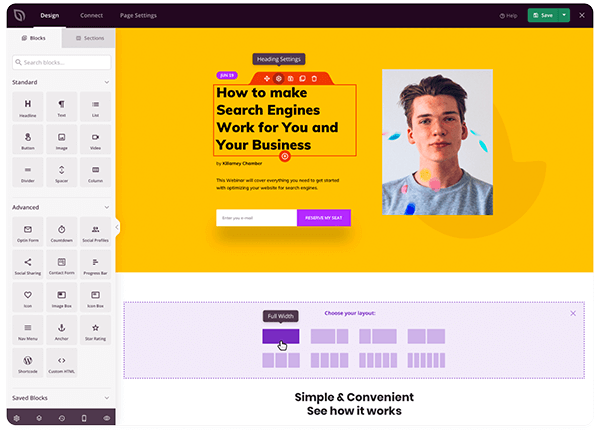 Now, you can build landing pages that are completely independent of your WordPress theme design.
You can have custom headers, footers, content layouts, etc without slowing down your site. It's basically like building a fast static website similar to Webflow, except in WordPress.
With our smart design system, you can make saved sections and block formats, so your marketing pages are consistent.
We have third-party integrations with all top email marketing services like MailChimp, Constant Contact, ActiveCampaign, Drip, ConvertKit, Zapier, etc.
There's also a built-in subscriber management database that lets you collect email addresses and manage them inside WordPress.
Our custom domain mapping feature allows you to turn any landing page into a micro-site using a unique domain all from a single WordPress site.
For example, you could turn site.com/landingpage into myawesometool.com without setting up a separate WordPress install.
This is great for publishers / influencers who often use easy to remember domain names for their lead magnet squeeze pages and webinar landing pages.
It's also awesome for PPC agencies because you can manage all your client landing pages from a single WordPress install.
Essentially, you can offer your own version of Unbounce or Instapage for only $199 per year instead of paying hundreds of dollars per month to the SaaS landing page providers.
This is still a very new plugin, but we're working fast to add more design blocks, new templates, and other smart features to make it the most powerful landing page builder in the market.
I am super excited to use all the things SeedProd team is working on in 2021.
RafflePress
RafflePress is the most powerful WordPress giveaways and contest plugin.
We launched this product in 2019 as part of the SeedProd division, and it has continued to do well.
Since most of our focus was on SeedProd revamp, RafflePress development was slow. We added few new features such as LinkedIn giveaway actions and GetResponse integration. Aside from that, we continued to refine the plugin to add enhancements to our already powerful set of features.
Giveaways are an incredibly powerful hack to quickly increase your traffic, social followers, and engagement.
Through out 2020, we did several monthly giveaways for our customers across various products. It's a great way for us to add value to our community members.
I built RafflePress for our own internal use because I wanted the flexibility that I simply didn't have with SaaS providers. Not to mention most of them would charge website owners between $1000 – $3500+ per year for all feature access.
Even though it's not our biggest business unit, I'm glad that we're able to offer this solution to WordPress site owners.
TrustPulse
TrustPulse is a powerful conversion tool that helps you increase site conversions with real-time social proof notifications.
It's part of the OptinMonster division of our company, and just like OptinMonster it works on all website builder platforms including WordPress, Shopify, BigCommerce, etc.
We added several new features such as our Click AutoMagic activity detection which can now automatically detect user clicks and turn them into live activity notifications.
This combined with our automatic form activity detection makes TrustPulse a very powerful solution for showing social proof.
TrustPulse is another product that we built for our internal use and have made it available to the market at a fraction of the cost of any competitor.
We do this because one of our missions is to help small businesses grow and compete with the big guys 🙂
WPBeginner
WPBeginner turned 11 years old in 2020. I love the impact we've made on so many lives through our blog tutorials, videos, and our support / community team.
What started out as a small blog in 2009 has become the largest free WordPress resource site for beginners.
Due to the pandemic, this year we helped more users get started with WordPress than ever before.
It's pretty cool to see WordPress now powering over 39.3% of the top 10 million websites. What's even bigger is that this year for the first time in history, more websites are built with WordPress than "static HTML or no platform".
Our WPBeginner Engage Facebook group passed over 66,000 members, and the WPBeginner YouTube channel passed the 220,000 subscriber mark. Both of these were huge team accomplishments.
What many don't realize is how much free WordPress support we offer through WPBeginner. Over the last year, we hired 2 new full-time and 2 part-time support team members to dedicate 100% of their time giving back to the WordPress community through free support on channels like Facebook, Twitter, etc.
This year, we also created a new WordPress Core contributor role and welcomed Peter Wilson to our team. Peter is a well-known WordPress developer and a prolific WordPress core committer. He is now spending 100% of his time working on improving WordPress core and our free open source plugins.
WordPress has had a huge impact on my life, and I'm really honored to be in a position where we're able to increase our contributions to the community. We'll be doing a lot more of that in 2021.
Now coming back to the WPBeginner website updates:
We added two new free tools on the WPBeginner website: WordPress theme detector and a free business name generator. We also added a free business tools page that has a list of all our free tools.
I switched the WPBeginner website hosting to SiteGround Enterprise platform. This was the first time in 10 years that I made the change on WPBeginner hosting. I wrote about 6 reasons why we switched to SiteGround.
Last year, I promised that I was going to work on the WPBeginner site redesign and maybe even launch it by the site's 11th birthday. Well that didn't happen.
With that said, we did work on and finish the design work. The theme is in the coding process, and I am confident that we'll be releasing it in 2021.
Since it's a huge undertaking, we'll be releasing it in phases. I have a grand vision for WPBeginner in 2021, and I'm going to do my best to add all the new sections by the end of next year.
If you're an amazing Sr. WordPress developer that wants to work with me 1-on-1 to build some really cool projects on WPBeginner, then email me using the contact form with your portfolio & Github profile. This position is not listed on AM careers page.
Acquisitions
This year, I made three major acquisitions and took an investment stake in one additional WordPress portfolio company.
AIOSEO
AIOSEO is one of the three major acquisitions that we made this year, but this one is special because of it's history and the impact it had on my WordPress career.
For those who don't know, All in One SEO for WordPress was the original SEO plugin started in 2007. Today, it's being used by over 2 million websites, and it's in the top 20 most popular plugins of all time.
When AIOSEO came out, I was one of their early users, and it was actually the first SEO plugin I used on WPBeginner in 2009.
I got to meet Michael Torbert, founder of AIOSEO, many times over the years at WordCamps and the community summit. He is one of the nicest guys and someone I truly admired.
In 2009, I had just turned 18, and I was a relative newcomer in the WordPress industry. I will never forget how kind Michael, Cory Miller, Lisa Sabin-Wilson, and other WordPress celebrities were to me. They invited me to their private parties, introduced me to other awesome people, sponsored WPBeginner, gave me advice, etc.
Michael Torbert, Steve Mortiboy (now at AM), and AIOSEO will always have a special place in my heart.
Ok coming back to the SEO plugin journey, behind the scenes stuff.
After a very successful launch of OptinMonster in 2013, Thomas and I started talking about starting a SEO plugin. He was so excited that one weekend in 2014, he even created a plugin wrapper and some initial code.
But we were a small team, and I decided that it was best for us to focus on our fast growing product, OptinMonster.
Each year after that, WPBeginner census survey kept reminding me that our users want us to build a SEO plugin. The number of requests kept going up.
In 2016, when we launched WPForms (contact form) and acquired MonsterInsights (analytics) from Yoast, we briefly discussed investing in the Yoast SEO plugin as well. But the timing wasn't right for Joost and Marieke, so those conversations didn't go anywhere.
After the 2017 user survey, I once again saw SEO at the top of the plugin requests, so I started the conversation with Michael at AIOSEO. We actually got pretty close to agreeing on the deal, but that ended up not going through.
Since then each year, I followed up with Michael and other SEO plugin owners for a potential deal. If you haven't done acquisitions before, it's not easy to convince entrepreneurs to sell their business. You just have to be persistent.
In 2019, we decided that we will be entering the SEO market in 2020 whether it's through a build or a buy. I reached out to few SEO plugin owners, and this time the conversations went a bit differently.
I flew up to Raleigh to meet up with Michael in person and few months later, we had come to an agreement. We closed the transaction first week of January 2020.
We assembled a great team which is led by our newest AM partner, Benjamin Rojas. They have been working really hard on a full revamp since then. We launched version 4.0, which is a full rewrite, to our Pro users in November. The response overall has been very positive.
We have significantly improved the code base, added many new features, and have setup the right infrastructure, so we can quickly build new features over the coming months.
Since WordPress plugins are downloadable products, and each site can have different plugins / hosting configuration, it's really hard for us to test every single edge-case scenario.
I'm very proud of our team's commitment to customer success. Anytime an issue is reported, we work tirelessly to resolve it.
Personally, I don't enjoy plugin rewrites, but I also know that sometimes they're necessary. The 2021 roadmap for AIOSEO is very bright.
We are planning to add some really smart SEO features that will help more small business owners improve their website SEO rankings.
Some of these features we had custom built for WPBeginner that we'll be rolling out to the wider community.
I know it's hard to see the progress on surface, but I can promise you that by the end of 2021, AIOSEO will be the most powerful WordPress SEO plugin in the market.
Smash Balloon
Smash Balloon is the second acquisition that we made in 2020.
Over 1.4 million websites use Smash Balloon plugins to easily display their social media content in WordPress.
Basically, Smash Balloon is a combination of four plugins that makes it easy for you to create and display custom Facebook feeds, custom Instagram feeds, custom Twitter feeds, and custom YouTube feeds on your WordPress site.
We have been recommending these plugins on WPBeginner since 2016 because they're easy to setup and most importantly ALWAYS reliable.
In 2019, I was presented with an opportunity to invest in Smash Balloon along with another well-known entrepreneur & investor. I was going to be a minority investor through our WPBeginner growth fund. However, due to unforeseen circumstances, that deal ended up falling through.
Fast forward few months, John Brackett, founder of Smash Balloon, and I had a short conversation that ended up with him agreeing to join Awesome Motive.
You see, John is an amazing young entrepreneur, and he wasn't ready to retire / give up 100% of Smash Balloon. After our quick conversation, we worked out a deal where John became a new partner in Awesome Motive.
This allowed him to continue leading Smash Balloon, the product and team that he absolutely loves. Except, now he has more resources, and a peer-group of other founders, AM partners, to collaborate with.
Personally, I'm really excited to have John be part of our team. In our few short months together, he has pushed me to get better at explaining and refining ideas.
Ok coming back to some product updates:
This year, we launched a brand new product called Social Wall. It lets you combine and display all your recent social media content on a single page. Click here to see the demo.
We also made our biggest contribution to WordPress by fixing the Facebook and Instagram oEmbed issue through our plugin. Basically starting October 24th, the default FB and IG embed functionality in WordPress stopped working due to a breaking change in the Facebook API.
Since our plugin require users to connect with the Facebook API anyways, it was easy for us to implement the fix. This ensured that over 1.3 million websites that are using our FB and IG plugins would not have broken embeds on their site.
I'm very proud of our team for acting quickly and releasing the fix.
Aside from that, we implemented many performance and caching improvements across all Smash Balloon plugins to make sure that our plugin will never slow down your site.
We also added better error reporting and fallback features, so if your API ever gets disconnected, then your social feed content is cached and will continue to display. Our plugin will now notify users through the WordPress Site Health feature to fix these connection issues ASAP.
Smash Balloon team has continued to grow, and we're looking forward to bringing more awesome features in 2021.
PushEngage
PushEngage is a leading push notification software with over 10,000+ customers in 150+ countries who use the platform to reliably send over 9 billion notifications each month.
This was our 3rd major acquisition in 2020, and it has a similar story as the other two acquisitions.
I was first introduced to Ravi Trivedi, founder of PushEngage, in 2017 by a mutual friend Harsh Agrawal (ShoutMeLoud). This was at the time when I first started using push notifications on my sites.
I tried to invest in the company back then, but the timing wasn't right.
We continued to use push notifications on our sites because how powerful they are.
To put in perspective, my push subscriber list is larger than my email list, and push notifications consistently make the top 5 traffic sources on WPBeginner.
Basically, if you aren't using push notifications on your website, then you're missing out. To learn more about what they are and how to add them, see my tutorial on how to add push notifications to WordPress.
In 2020, I decided that I wanted to build a deeply integrated push notification solution that did automatic subscriber segmentation and worked seamlessly with our AM products + our various cart platforms.
We started building an internal solution beginning of July, and then 3 weeks later, I got a random email from a friend, Andrew, who told me that I should chat with Ravi from PushEngage about a potential acquisition.
As soon as Ravi and I started chatting again, we knew that this was the right time for both of us.
We quickly came to an agreement where the entire PushEngage team joined Awesome Motive, so we can build the most user friendly push notification solution for WordPress and beyond.
Ravi got a clean exit which is what he was looking for. He agreed to stay for 3 months to help us through the transition, and he'll be leaving us in the coming days to start the next chapter of his life in 2021.
We have a lot of work ahead of us, but I'm up for the challenge.
Our goal over the next 12 months is to build deeper integration with other Awesome Motive products, and popular platforms like WordPress, WooCommerce, Shopify, MemberPress, and others.
Along with that, we want to greatly improve the workflow as well.
Growth Fund Companies
All companies that I invested in through the WPBeginner Growth Fund saw a lot of compounding growth.
MemberPress team launched a brand new Courses platform, so now you can easily create immersive learning experiences. This of course combined with the eLearning boom with COVID drove a lot of new users to our platform. I intend to use this to launch some courses in 2021.
They made tons of improvements to the Pretty Links, ThirstyAffiliates, and the free Members plugin for WordPress. The team also continued their work on the revamp of Affiliate Royale, but due to the explosive growth on MemberPress, this deadline got pushed to 2021.
Formidable Forms saw a lot of revenue growth this year because they completely revamped their website design. They also made it easy to create interactive calculators in WordPress to help you generate more leads. Also due to popular requests, Formidable expanded their Views feature to make it easy to create beautiful Directory Listings template.
While working on the directories, we were presented with an acquisition opportunity, so the Formidable team acquired both the Business Directory Plugin for WordPress, and the WordPress Classified plugin. The team has already started working on improving those products and adding new features for 2021.
Last year, I invested in Rymera Web, the parent company behind WooCommerce Wholesale Suite and Advanced Coupons. Both of these brands saw great growth.
Advanced Coupons is quickly becoming the go-to smart coupons plugin for WooCommerce because it lets you do BOGO deals, loyalty programs, free shipping coupons, and more.
This year, I invested in UncannyOwl, the parent company of a fast growing WordPress automation plugin, Uncanny Automator, and a suite of e-learning plugins for WordPress.
I'm really excited about the opportunities and potential of the Automator plugin. The best way to describe it is that it's Zapier for WordPress. It helps your WordPress plugins talk to each other, so you can better automate your website processes without writing any code.
Other Investments

Majority of my focus this year was on our online business, so I didn't make any major moves in the real estate market. Frankly, I think the prices were just too high for my taste.
A lot of people pinged me through out the year to see how my commercial real estate business was doing. Thankfully, it wasn't negatively impacted at all, and all my tenants continued to pay rent on time.
I own a lot of gas stations that are leased out to corporate tenants like Circle K. Since these were essential businesses, their sales in most cases were positively impacted at least from what I know.
Another commercial building that I own has Wells Fargo as a tenant, and despite the banks being closed for a period of time, they continued to pay rent on time.
I also own several residential real estate properties, and thankfully all of our tenants have good jobs. We stay in constant communication with them to ensure we can help in any way that we can.
Aside from real estate, I did take advantage of the stock market dip to make some major investments which of course have turned out quite well.
While I was too young to remember the dot com bubble, I have seen two major market dips now (2008 and 2020).
In these times, it's easy to get greedy. I have taken a more disciplined approach with a large margin of safety which helps render all short-term forecasts unnecessary.
I'm investing in good businesses that I believe will be around way after the pandemic and be worth more than they're today. Several people have asked me for stock tips, and I just don't feel qualified to offer that.
If you're investing in stock, please do your own research. Don't listen to wanna-be YouTube / social media investment gurus.
This year I also invested in several other entrepreneur-led funds that have a focus on acquiring internet businesses. This included Tiny Capital by Andrew Wilkinson & Chris Sparling, SureSwift Capital by Kevin McArdle, and few others that I can't name just yet.
Going into 2021, I believe we're going to see more "portfolio entrepreneur" funds.
I'm talking with several entrepreneur friends who have had multiple successful exits, and they're looking to raise strategic capital for acquisitions.
It's quite interesting to see this trend.
The fundamental concept isn't that much different than my own WPBeginner Growth Fund except everyone's focused on their own circle of competence whether that's Shopify businesses, Amazon FBA businesses, DTC brands, Pet market, etc.
Company Retreat
Awesome Motive has always been a 100% distributed company, and we do not have a central HQ. This has definitely proven to be an advantage during the COVID times.
However, each year we used to do a company retreat where we flew everyone to a central location. This year, we were planning to meet up in Park City, but it was cancelled.
We did have a virtual retreat, and it turned out quite well, but it was no substitute to the in-person fun.
However earlier in the year, we did do a smaller team meetup for OptinMonster. Looking back at the photos, I'm so thankful to work alongside such an amazing team.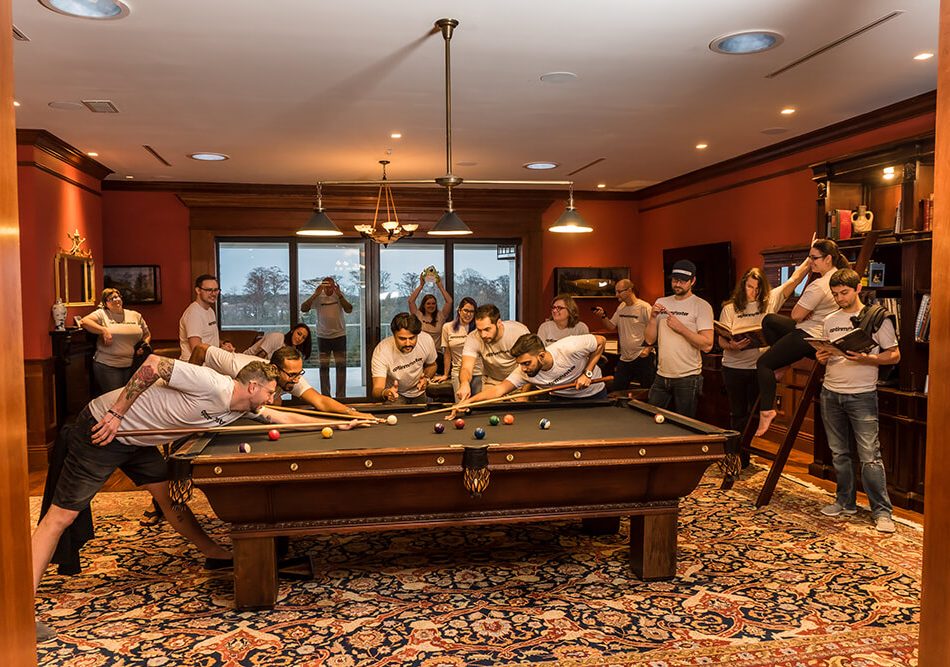 Want to join the company? We're hiring! See the open positions and please apply using the specified method.
Lessons Learned
Like every year, I learned a lot in 2020 through reading books, talking with other entrepreneurs, and through trial-and-error. Below are some of the most important lessons:
Trust, but verify … so you don't suffer huge losses
Earlier this year, I was working on an investment transaction, and all parties involved were trustworthy.
Towards the final stages, when it came time to wire the money, I got the instructions over email and sent the funds.
Well it turned out that one of the legal counsel's email accounts were hacked, and the bank account information sent to me was incorrect. I nearly lost $1.4 million dollars due to this wire fraud scam.
A day after sending the wire, I got a text message that the money still hadn't showed up, so I got on the phone because domestic wire transfers are nearly instant.
Only then everyone realized that the account information sent to me was wrong.
I immediately contacted my bank, Wells Fargo, and they started the investigation process right away. I also filed the FBI report, police report, and sent over all the necessary details.
The next few weeks that followed were extremely frustrating.
Due to "client privacy", neither my bank nor the receiving bank's wire fraud department would tell me anything. I think this was all part of legal b.s. where everyone was trying to cover their asses.
No one wanted to tell me whether my money was still there, if I would get it back, or on what timeline I should expect to get an answer.
Everything I read and heard during this time was that once the money is wired, it's really really hard to get it back.
I was also surprised that none of the legal authorities got back to me despite the fact that I had filed a detailed report.
After three weeks of frustration, I got really persistent and started reaching out to all contacts who had connections in the FBI or another federal law enforcement agency.
Luckily one contact came through, and I got introduced to a very helpful agent at Department of Homeland Security (DHS) who agreed to take the case.
I still don't have full details on what happened behind the scenes, but I know he issued subpoenas to the banks. Basically after DHS got involved, the process started to move a bit faster.
After 10 weeks, they were able to recover $1.3 million dollars and send it back to me.
I'm still short about $100k, but honestly I'm grateful that we recovered a large chunk of the money.
The investigation is still ongoing, and I hope that I recover the rest too, but I'm grateful that I got a large portion back.
Because if you read online stories, most people aren't this lucky. Even the wire investigator lady at my bank told me that this was the largest recovery of her 35 year career, and she said this was made possible by DHS involvement.
This was an expensive lesson to learn. From now on, I'm always calling to confirm wire information over phone, no matter what.
Also if you're a lawyer, accountant, escrow company, or anyone else reading this article, please use strong passwords and turn on the damn 2-factor authentication for your accounts.
Practice gratitude every day
2020 has been a challenging year, and I don't think I would be able to keep my sanity if I didn't start doing this daily exercise.
Before you go to bed, take a deep breath and reflect on all that you're grateful for.
After you end your work day, take a deep breath and reflect on all the things you accomplished.
Instead of focusing on the negatives, appreciate all your wins, no matter how big or small.
The fact that we wake up healthy, have food on the table, a roof over our head, a beautiful family to talk to … is something we often take for granted.
Despite all the negativity in the world, practicing gratitude helped me stay positive even through the most troubling times this year such as during the wire fraud issue, my mental burnout, etc.
If you're looking for some resources, check this video on breathing and this simple article on practicing gratitude.
Persistence is a great substitute for talent
Despite all my accomplishments, I feel I'm quite average when it comes to talent.
Both of my younger brothers are more talented than I am, but I tell them that what I lack in talent, I make up with my hard work, persistence, and ability to wait for results (patience).
Napoleon Hill said it best:
I've been reminded of this lesson every year of my life, but this year it showed up way too many times.
When I lost $1.4 million dollars in wire fraud, it took me about 2 hours to get over it. I had no idea if or when I'd get it back, I just decided that I'll make at least one phone call a day to ask for help and also catch up with friends.
The acquisition of AIOSEO didn't happen because of luck or talent. I just kept following up with Michael since 2017 because I knew that eventually the timing would be right, and I just wanted to be there when it was.
Same thing happened with PushEngage. Even though I didn't keep in touch with Ravi after our initial conversations, I was persistent in asking all of my friends and business brokers if they knew of entrepreneurs in these verticals that are looking for an exit.
None of what I do would be possible without the support of my wife, Amanda. What many don't know is that Amanda and I started dating in high school when we were 15 years old.
I wasn't the best looking nor the smartest, but I did try to be the nicest. Amanda turned me down probably more than 20 times before she agreed to date me. I was just persistent.
Each time you hit a roadblock or fall down, it's absolutely frustrating, but you just have to keep moving forward.
Since I write these recaps not just for me, but for Solomon to read as he grows up, I want to share this big life lesson that persistence is often a great substitute for talent.
Most people will give up and move on. If you're disciplined, patient, and persistent, you'll eventually succeed.
Paranoid optimism can help you thrive during challenging times
When the news of COVID started coming out, I started reading what was happening in other countries. This led me to proactively cancel my trip to Bangkok.
The more I read, the higher my anxiety got because I had only read about plague and Spanish flu in the history books. Never did I think that we would live through something like that.
And then few weeks later, all the lockdowns started happening in US.
People started losing jobs, several of my friends had to do massive layoffs, and some entrepreneurs in the Facebook groups that I'm part of had to shut down their entire business.
Basically every news channel or social media feed was full of COVID news, and honestly I don't think I have ever experienced anxiety like this in my entire life.
Over the last decade, I have done very well financially. We live below our means, have no debt, and technically I can retire whenever I want to.
I always used to joke with friends when they ask: what's keeping you up at night these days … my answer was that I sleep really well.
But this 2020 anxiety changed that.
I am not sure why I was paranoid, but I was waking up at 2 a.m in the morning at least 3 times a week. This is even early compared to my regular 4 a.m mornings.
I would get out of bed, make myself a coffee, and start working.
I knew as a family we would be fine no matter what, and I was optimistic that we'll get past this pandemic, but for some reason I was still paranoid.
Even though our businesses started seeing the COVID sales bump, I remember calling Thomas one morning to talk about a contingency plan on how we can best prepare ourselves to ensure that we don't have to layoff a single AM team member during these times.
I think Morgan Housel said it best:
We talked about optimization ideas, increasing reserves, ways how we can better support our team, our customers, and each other.
Basically, a lot of great ideas came through from that conversation. We unlocked optimizations on our server expenses and various other areas of the business.
We used the new savings to give a COVID stipend to help our team members with unexpected expenses such as purchasing new office furniture because now their spouse or other family members were also working from home, etc.
Like most software companies, we also granted subscription extensions and discounts to customers who were struggling with recurring expenses or business slowdown.
We also started optimizing leaky buckets in our business that are easy to overlook when everything is going well. This led to an increase in new revenue as well.
My paranoid optimism combined with the hard work of our team helped us not just survive but thrive during these challenging times.
Other Lessons from 2020
Since this post is getting quite long, I'll just make a short bullet list. Maybe will write more about these in details at another time:
Change is the only constant in life. Ones ability to adapt to those changes will determine your success.
Never underestimate the power of optimization.
The oil industry can teach us many lessons. Learn from oil refining and apply those concepts in your business.
The last 2% makes a huge impact. Pay extra attention and don't rush.
Invert, always invert. Avoiding stupidity is easier than seeking brilliance.
Flexibility is a huge advantage especially during challenging times. It helps you make better decisions … or more often keeps you from making stupid ones.
Avoid single point of failures because they'll cause you to lose confidence … and you should never lose confidence.
Favorite Books that I Read in 2020
When it comes to reading, I'm very slow. Maybe it's because English is my second language, or maybe it's because I often re-read and pause after pages to really reflect and understand what's being said.
Several blog readers have asked me to share what were some of my favorite books this year. So here are my top five that I read this year:
I also read several other books like Strategy Beyond the Hockey Stick, The Great CEO Within, LoserThink, etc, but they didn't make my top 5.
When it comes to reading, I prefer the hard copy.
I've tried audio books, and they're great for stories, but I find it challenging to listen to business books that are discussing charts & fundamentals. Also because I like to re-read pages and pause to reflect, audio books just don't work for me.
My Goals for 2021
I'm not going to list out product-specific goals because each one of them have fairly elaborate roadmaps.
My personal goals for 2021 are:
Have more unscheduled time in my calendar
Continue doing monthly trips in whatever form possible – clearly I need it for my mental health
Continue finding small but compounding improvements to unlock extreme growth in all areas of life
Reimplement deep thinking time, so I can spend more time learning from what I don't see
Delegate more often and get out of the way
Despite all the challenges of 2020, I feel truly blessed to be able to do what I love every day.
Here's to a better (and hopefully more normal) 2021!
In the meantime, enjoy more pics from 2020 🙂