Imagine what you can do to your business if you had 40 additional hours every week. I often get asked about how do I find the time to manage all of my different businesses. Want to know how to make more time in your day? In this article, I will show you my secret trick that helped me add 5 more hours to my day and ultimately allowed me to grow my business.
Few years ago, I remember looking up at the clock at the end of every day and wonder where did all of my day go.
Not only was work consuming my life, it was hindering my growth.
I was getting burnt out and despite having a truly blessed life, I was unhappy.
I knew it was time for me to make some changes.
As always, I decided to take the most extreme approach. I decided to create my own day and added 36 hours to it instead of 24 hours.
That was a BAD IDEA. I was young and stupid. Don't try that!
The next thing I did completely changed my life.
It's called Time Blocking.
The concept is similar to creating a financial budget on paper except in this case you're planning to spend your time rather than money.
This allows you to focus on your top priorities, create hard boundaries, and live your life the way you want.
When I first started, I wrote down my list of tasks for the day, prioritized them, and then put hard deadline on the time I wanted to spend on each.
By just setting hard deadlines, you'd be surprised how efficiently you work.
The same tasks that would take me a full 8 hours day to complete, I was completing them in 3.5 hours.
I started using this saved time to finish additional tasks that would normally fall in the never ending "Tomorrow List".
As my business grew, I expanded the time blocking concept to create "Theme Days".
Here's what my week looks like:
Monday – WPBeginner Day / Company Meetings / Personal Trainer
Tuesday – OptinMonster Day / Available for calls and interviews in the afternoon
Wednesday – Soliloquy + Envira + List25 Day
Thursday – Personal Blog / Company Meetings / Personal Trainer
Friday – Planning / Strategy / Reviewing
Saturday – When I'm not traveling, family day (personal chores, games, activities)
Sunday – When I'm not traveling, family day (personal chores, games, activities)
I'm usually finished working by 4:30 – 5 p.m. Since I wake up early, majority of my heavy work is done early in the mornings.
Currently we don't have any kids. Every evening, my wife and I have dinner together and spend the night catching up, watching TV, playing a board game, or even getting frozen yogurt.
Now I know that nothing is perfect and you can't plan everything.
With my crazy travel schedule, things often get shuffled. During product launches, my schedule looks entirely different.
But by having a proactive approach to handling my time, I'm able to be more productive and have a better work-life balance.
How to Get Started with Time Blocking
There are tons of blank time blocking worksheets that you can download and start filling it out. I personally use Google Calendar because it's synced to all of my devices and have reminders.
If you want more of a template to start off with, you can download a modified version of my template below.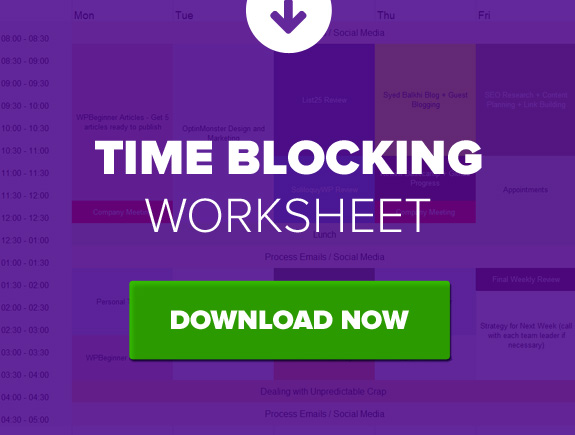 *The main thing I modified is the time because I know most people don't wake up at 4:30 a.m*
In order for time blocking to work, you must be honest with yourself and hold yourself accountable.
You need to remove all distractions during your blocks and learn to say NO (to others and yourself).
My rule is that anything other than a task at hand is a distraction.
For breaking up your blocks, you should use Pomodoro technique. For better tracking of how you spend your time, use Time Doctor or RescueTime.
Once you have a basic template, you can easily use it for future planning and improve it to work with your flow.
If you're not doing this, I challenge you to give it a try for 2 full-weeks. Trust me, you'd be surprised by how much you can get done when you have "hard boundaries".
As the Parkinson's law says:
Have you ever used time blocking? Just experimenting with it now? I'd love to hear your thoughts in the comments below.